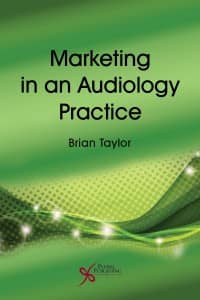 Plural Publishing, San Diego, Calif, has announced the release of a new book on April 1, 2015, titled Marketing in an Audiology Practice, that provides an in-depth look into all facets of marketing for hearing care professionals wanting to market themselves and grow their business. Edited by audiologist and frequent contributor to The Hearing Review, Brian Taylor, AuD, this practical text strives to further the autonomy of the audiologist by presenting an A to Z approach for creating and implementing marketing plans and budgets in both for-profit and not-for-profit settings.
A key focus of this text, according to the publisher, is how to incorporate new and emerging social media tools as part of a comprehensive marketing strategy to appeal to a broader patient base. Taylor's book features contributions from hearing industry experts Curtis Alcock, Karen Ann Jacobs, Geoffrey Cooling, Robert Tysoe, and Donald W. Nielsen.
"This is not, I repeat, not, a marketing textbook," Taylor emphasized in the announcement from Plural Publishing. "It is an audiology book that will demonstrate how marketing and branding are instrumental to the long-term sustainability of an audiology or hearing instrument dispensing practice. It is written for two audiences: graduate students who often do not get enough exposure to business-related coursework during their graduate school tenure, and experienced audiologists who are looking for some material of a practical nature. Its primary intent is to support audiologists who aspire to own or operate their own practice."
The book includes chapters on developing a strategy and brand for a practice, using marketing to affect attitudes to hearing care, social media and digital marketing, and more. Editor Brian Taylor, AuD, the director of practice development and clinical affairs for Unitron, has more than 20 years of clinical, teaching, and business management experience in a wide variety of settings. He is responsible for all best practice initiatives and customer loyalty programs for Unitron, is the editor-in-chief of Audiology Practices, the quarterly journal of the Academy of Doctors of Audiology, and is a frequent contributor to AudiologyOnline as well as the HearingHealthMatters.org blog.
More details about the book may be found on the Plural Publishing website.
Source: Plural Publishing