Silence came fast and unexpectedly for Barbara Chertok.
It was 1957. Chertok was 21 years old and working at a Boston advertising agency. One afternoon, while walking back to work from lunch, she suddenly felt very dizzy. Her doctor suspected a cold. It was that assumption that changed everything. In fact, Chertok was suffering from Cogan syndrome, a rare disorder that, if left untreated, can cause deafness.
Modern physicians treat the disorder with a steroid that corrects the problem. But in 1957, most doctors had never even heard of Cogan syndrome. In fact, the disease had been in the medical books for only 12 years at that time. So while the misdiagnosis was understandable, it plunged Chertok—a lifetime lover of music—into a world of virtual silence for more than 40 years.
Never one to let obstacles get in her way, Chertok learned how to lip-read and became a lifelong advocate for the deaf and hard-of-hearing.
Time passed. Progress and medical ingenuity finally brought hearing back again to Chertok in 1997, when she was fitted with a cochlear implant. After 4 decades, Chertok was able to talk, hear, and, most importantly, listen to her beloved music again. But there were still times when her hearing did not work as well as she wished—particularly whenever she used the telephone.
Once again, progress intervened in the form of Hamilton Captioned Telephone, or CapTel®. Chertok jumped at the chance to participate in the first CapTel test group in her area, and has been an enthusiastic user ever since.
CapTel allows those with hearing loss to make use of residual hearing to engage in phone conversations. In addition, a trained Captioning Assistant (CA), employing the latest voice recognition technology, transcribes the dialogue of the other party into captions that are then projected on to the display screen of the CapTel phone. As a result, conversations are natural—and the user has the backup support of the captions to double-check any confusing, misheard, or misunderstood parts of the conversation.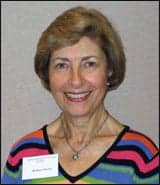 Barbara Chertok is the Cochlear Implant Chair of the Hearing Loss Association of America in Sarasota, Fla, and a board member for the American Hearing Research Foundation. A user of both Captioned Telephone (CapTel) and Web CapTel services, Chertok is an advocate for individuals with hearing loss.
BETTER THAN SLICED BREAD
"For me, CapTel is better than sliced bread," she says. "I can listen to the person I'm calling, thanks to my cochlear implant, and if I miss any of the conversation, the captions are right there." Chertok adds that if there are any drawbacks at all to the service, it's that so many people who could benefit from it simply don't realize it is available.
"Of the 31 million people with hearing loss in the United States, 2 million are considered profoundly deaf," Chertok says. "About 500,000 use some form of sign language as opposed to spoken language. That leaves 29 million hard-of-hearing people who could benefit from CapTel."
The reasons why so many have yet to try Captioned Telephone service are many, Chertok says. "Most aren't aware of the CapTel service. Still others don't know they qualify for the service, because they don't realize that they have a qualifying level of hearing loss."
Chertok says that a third reason could be that some states simply don't offer CapTel services. This is changing, as companies that provide the service expand into new markets.
Captioned Telephone was developed specifically for those with hearing challenges as part of the mandate set by Title IV of the Americans with Disabilities Act of 1991. The service was designed to serve people with any degree of hearing loss who speak for themselves—from a slight hearing loss to complete deafness. Two types of traditional CapTel service are available: one line and two line. The type of service selected depends entirely on the needs of each individual.
With the one-line service, the CapTel user can call anyone at any time by dialing directly. By selecting "captioning" on the CapTel phone, the captioning service is enabled and ready to transcribe the other party's words. If the other party wishes to call the CapTel user, they must first dial the toll-free number for the captioning service. Following a prompt, the other party dials the user's number and the connection is made.
In either situation, the conversation takes place without any audible input from the CA, so conversations are natural.
With the two-line service, a separate phone line is installed in the home. One line carries the voice conversation; a second line carries the captioning service. This allows either party to call each other without first having to dial the CapTel center.
Two-line CapTel requires no special services (such as Caller ID, call waiting, etc) to work. Long-distance service is required on only one of the lines.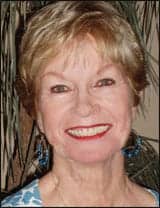 Rosemary Tuite says CapTel service "makes using the phone stress-free." She is a Co-Leader for the Phoenix, Ariz, chapter of the Hearing Loss Association of America (HLAA).
CapTel phone service is currently available through numerous state relay programs, and the phone itself is available through state assistive equipment distribution programs. The service is available 24 hours a day, 7 days a week. Spanish services are available daily from 7 am to 11 pm CST.
THE POWER OF THE WEB
As technology has advanced, cell phones and the Internet have turned us into a mobile society. Hamilton CapTel believes that those with hearing loss are entitled to the same freedom of communication as everyone else.
With that in mind, Hamilton CapTel provides its Web CapTel® service for individuals with hearing loss to be able to contact anyone, virtually anywhere.
Web CapTel provides captioned phone service to anyone with access to both a telephone and a high-speed Internet connection. Captions are displayed on a computer screen in real time. No additional equipment is needed. Even long-distance charges are avoided, since the service is carried over the Internet. Whether a person chooses Hamilton CapTel or Web CapTel, both services are absolutely free of charge and available 24/7.
Since the day that it was introduced, CapTel—and now Web CapTel—has changed the lives of thousands. What follows is just a small sampling of people who have benefited from Hamilton CapTel services.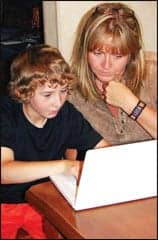 For Todd Honas and his mother Michella, Hamilton Web CapTel has become an integral part of their lives.
FILLS IN THE BLANKS
As someone experiencing progressive hearing loss, Rosemary Tuite knew the frustrations of not being able to use the telephone with confidence, and it was while attending a Hearing Loss Association of America (HLAA) convention that Tuite saw her first demonstration of Hamilton CapTel.
"I thought I'd died and gone to heaven," Tuite says. CapTel was looking for participants for a trial run of the service in Minnesota. Tuite quickly signed up.
"What I liked most about CapTel was I could hear a great deal of the conversation and then use the caption screen to fill in the blanks," Tuite says. In fact, she was so impressed with the CapTel phone that she purchased one after the trial period ended. Tuite adds that she has two profoundly deaf friends who love CapTel too. "It allows them to talk, but still read what's being said."
Tuite also has positive remarks about Hamilton Web CapTel. "I like how easy it is to log on and initiate a call," Tuite says. "The captioning is very accurate."
In fact, Tuite is so sold on Web CapTel that she demonstrated the service at a recent HLAA meeting. She said other HLAA members were delighted to see they had a new option for conversing on the phone.
"Web CapTel makes using the phone stress-free," Tuite says. "I hope audiologists will recommend it as an additional service to their hearing aid users. The convenience and ease of use are absolutely amazing."
Michella Honas' parents tested her hearing when she was 2 years old. They might not have done anything, were it not for Michella's uncle, who had a deaf son.
"He noticed I was displaying much of the same behavior as his son," Honas says. "So my parents had me tested."
Initially, doctors suspected that Michella's hearing loss was due to being born more than 2 months prematurely. Without vital nerve endings in her ears, her official diagnosis is high-frequency sensorineural loss.
As it turned out, she had two sons, both of whom have hearing loss.
Like many people with hearing problems, Honas became a proficient lip reader in order to aid her limited hearing. Still, as a special education teacher, she found talking on the telephone—and understanding phone conversations clearly—was a challenge, until about 3 years ago when she was introduced to CapTel technology.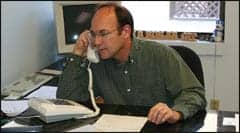 As the owner of Bibler Financial Group, Ron Bibler relies on two-line Hamilton CapTel every day in order to run his business.
"I was told about CapTel by a deaf educator," Honas says. "He put me in contact with a representative from Hamilton CapTel, one of the companies that provides the service. Soon, we were hooked up and using the service."
Honas uses both standard CapTel and Web CapTel services, but she admits she likes Web CapTel best.
"I can use it at home, a relative's house, or anywhere a computer is available," Honas says. "I don't need phone lines, so I can use my cell phone. The captions are bigger, because I use a computer screen and I'm able to adjust the font size. Plus, if I need to, I can print out the conversation. It's a simple way to provide vital pieces of documentation."
The influence of CapTel and Web CapTel in the Honas household extends past Michella. Her son Todd's deafness was discovered early, thanks to Kansas state law requiring parents with hearing loss to test their children as early as possible.
"I received my first set of hearing aids when I was 6 months old," Todd recalls.
Growing up with a hearing challenge enabled Todd to take advantage of a variety of services and resources provided in his home state.
"Audiologists, hearing specialists, and deaf educators are all provided by the school system where I live," Todd says. "They've all been so nice to me." Even so, because Todd relied heavily on lip reading, he still had challenges using the telephone.
Taking the proactive stance, his mother made sure this problem was addressed in Todd's Individual Education Plan (IEP) at school. Deaf educators helped Todd to work through his phone problems, as well.
Many of Todd's challenges were alleviated when the Honas family began using CapTel, a service both Michella and Todd continue to use on a daily basis—and probably always will.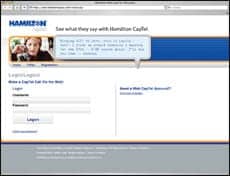 Hamilton Web CapTel service provides the mobility and convenience of using CapTel services from virtually anywhere. All that is required is a standard or mobile telephone and a computer with a high-speed Internet connection.
A GOOD BUSINESS DECISION
As a certified financial planner, Ron Bibler owns his own business. Every decision he makes has an influence on the lives—and bank accounts—of his clients.
Therefore, being able to communicate is beyond question. Being able to talk on the phone is essential.
"My client's money matters are very personal," Bibler says. "They can get very uncomfortable if they can't reach me directly."
Because of this, Bibler is an avid user and confirmed advocate of two-line Hamilton CapTel service.
"Two-line CapTel lets me call my clients directly," Bibler says. "Or they can call me without having to dial extra numbers. They don't have to speak with my secretary first, or have me call them back after leaving me a message. We can just talk."
Bibler adds that two-line CapTel saves him at least 10 minutes on every call. What's more, Bibler relies heavily on Web CapTel when traveling, or when he needs to call clients while out of the office.
"I much prefer CapTel and Web CapTel to older methods of communication," Bibler says. "My clients used to think they were communicating on two-way radio, 'over and out' style. But CapTel has greatly enhanced my experience. It has equalized the business world for me."
As with any technology, fresh ideas are vital. Even "the greatest thing since sliced bread," as Barbara Chertok described it, must be up-to-date and relevant. That's why Hamilton CapTel developers are consistently working to improve captioning services for all who need them.
Convenience, ease of use, and call quality continue to be top priorities. Future innovations will ensure that using the telephone is as natural and matter-of-fact an occurrence as possible for people with hearing loss. And CapTel and Web CapTel will help ensure they never miss a word.
---
Anne Girard is director of marketing for Hamilton Relay, which provides Hamilton Web CapTel in all 50 states and Hamilton CapTel in 15 states. For more information, visit www.hamiltoncaptel.com. Girard may be reached at (202) 679-5359 or .