Audigy Group, a medical management company based in Vancouver, Wash, has announced that many of its members joined the Starkey Hearing Foundation on a December 2015 mission to Haiti that brought better hearing to people in five cities.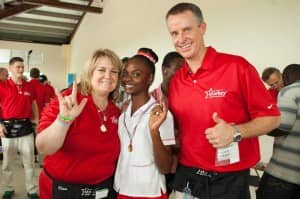 According to Audigy Group, over a five day period, several of its audiologists and associates provided approximately 1,000 people in five cities with hearing aid technology and counseling. The better hearing mission served the cities of Gonaïves, Saint-Marc, Croix-des-Bouquets, Port-au-Prince, and Jacmel.
Joining the company's audiologists and associates on the mission were Audigy Group founder and CEO Brandon Dawson; Dr Michael Workman; and Drs Meredith Wilken and John Curran, who are members of Audigy Group and providers at Hearing Rehab Center of Colorado. On the fourth day of the five-day trip, Dawson and colleagues visited the city of Jacmel, where Workman is building a surgery clinic with the help of Audigy Group's sponsorship.
"Helping those with hearing needs receive the best care possible has always been our passion, and to be able to impact the lives of those in need is a dream come true, whether it's at home or abroad," said Dawson, who has also attended other Audigy Group missions to Peru; Los Cabos; San Lucas; Los Mochis, Sinaloa, and Mexico. "But this trip certainly felt extra special."
According to Audigy Group, its members frequently partner with Starkey Hearing Foundation on their "So the World May Hear" missions. The foundation is a nonprofit organization that gives free hearing aids to those in need.
Audigy Group was established in 2004 with the goal of helping independent audiology practices maintain their autonomy in an increasingly competitive market. Audigy Group provides select hearing care professionals with shared services and best practice-based systems, including marketing, finance, human resources, operations, and professional development.
Source: Audigy Group