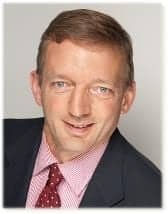 Andrew Bopp
The Hearing Industries Association (HIA), Washington, DC, has announced the promotion of Andrew Bopp to the position of HIA Executive Director, effective immediately. HIA is the national trade association of manufacturers of hearing aids, assistive listening devices, component parts, and power sources. Together, these companies produce the vast majority of the more than 2 million hearing aids that are purchased in the United States on an annual basis.
In making the announcement of Bopp's enhanced responsibilities, Carole Rogin, who continues as HIA president, noted, "Andy has done an outstanding job as HIA's Director of Government Relations over the past 10 years and truly earned this expanded role. In his previous position, he elevated HIA's presence and effectiveness here in the nation's capital, both on Capitol Hill and within the industry, and we anticipate many more successes from him."
Rogin highlighted Bopp's creation of HIA's HearPAC, the unification of hearing healthcare advocates through the Hearing Aid Tax Credit Coalition and Friends of the Congressional Hearing Health Caucus, and the deepening of HIA relations with both the advocacy and professional provider organizations throughout the hearing health field.
Bopp assumes responsibility for HIA's regulatory as well as legislative programs, HIA statistical programs, and other special member initiatives. Rogin will continue to provide strategic direction for the organization and management of HIA's marketing efforts through the Better Hearing Institute (BHI) and its market research commitment through MarkeTrak, the next phase of which is scheduled to be launched early in 2014.
Source: HIA