For more than 30 years, Frye Electronics has succeeded on the international hearing health care scene by listening to the needs of its clientele.
Frye Electronics might never have come to be, if it had not been for company president George Frye's mother.

George Frye, president of Frye Electronics.
Frye, who earned a BS and MS degree in electrical engineering, had been working as a design engineer, creating oscilloscopes for a company in Portland, when he began creating a hearing aid for his mother in his basement in 1970.
"My mother was hard of hearing, and so I made her a hearing aid," Frye says, simply. "Transistors had come in at that time, and I could do that."
He did it so well, in fact, that he began selling hearing aids that he designed across the country, even bringing them to the HEAR Foundation's international conference in Pasadena, Calif. "To show how good it was, I built a little analyzer for it, and the analyzer went over very well—more than the hearing aid. So, we're in the analyzer business," Frye says, laughing. "I was just building a hearing aid because there was a need for it, and there was obviously also a need for analyzers because the analyzer business just took off. Most of the equipment out there was certainly not very user-friendly. Ours was a digitally controlled device, even though it had no microprocessor in it."
Frye Electronics was incorporated in 1973, and has continued to design, manufacture, and sell equipment for hearing health care professionals. Its 30-plus employees are housed within a 23,000-square-foot warehouse in Tigard, Ore, that includes engineering, production, marketing, and accounting departments, as well as a machine shop.
The company is best known for its FONIX line of hearing aid analyzers, starting in 1973 with the original, the FONIX 5000, which came in a bright orange box. Two years later, its successor, the 5500, became the first FONIX analyzer to use microprocessor technology. It came equipped with a printer that made hard copies of the data obtained.
In 1981, Frye Electronics introduced its first portable analyzer, the FP20, which had a built-in sound chamber to make on-site test work easy.
In 1982, Frye Electronics expanded its product line to include audiometers with the FONIX 3100. Since then, the company has created the FONIX FA-10 and FA-12 Hearing Evaluator, as well as the FONIX 6500-CX Hearing Aid Test System, which is accepted as the standard in the hearing aid industry.
As of January 2005, Frye Electronics stopped manufacturing the 6500-CX, replacing it with the FONIX 7000 Hearing Aid Test System. The 7000 has superior user interface, display, and test capabilities. Its various features are designed to meet the particular needs of the hearing aid being tested, including help and settings menus on each test screen, and up to 10 response curves that can be measured and displayed on a screen at the same time.
The company will continue to support and upgrade all existing 6500-model units, and will release one final software upgrade, version 4.90, which will add the ANSI 03 automated test sequence to the 6500-CX.
"Hearing aids are predicted to work a certain way," Frye says, "but the trouble is, they don't always. It's hard to predict just exactly how they're going to work. One of the major goals of the analyzer is to find out exactly what it is doing; that's where we fit in.
"Instrumentation has got to be solid. It's got to be very reliable. It's not supposed to break down. It's not supposed to crash. It's not supposed to be dependent on computer malfunctions. And that's been our philosophy," Frye says. "Our products are all stand alone; they're not computer-based because we just can't tolerate computer crashes. [They are] computer-controllable, so you can run it through a computer, but it still has to stand alone."
A visual history of Frye Electronics' earlier products can be viewed in the Frye Museum, located on the company's Web site.
Among Frye Electronics' customer base are dispensers, manufacturers, large clinics, and hearing aid repair businesses. "All these people need to know how the product's working," Frye says.
About half of the company's business comes from selling products to customers overseas.
More than three decades after Frye Electronics officially opened for business, Frye continues to design products, working in the company's on-site research and development department. "That's how I started and that's what I've retained all through the years. That's the most fun," he says. "We're in constant development. Part of that is market-driven; part of it is device-driven. We're able to buy certain devices that are available on the market to use in our products. As time goes on, these devices are no longer available, and so we have to make modifications to instruments and build new types of instruments.
"The hearing aid itself has evolved so much since we started in business that we continually have to make modifications. We have to build new products to be able to test them, to stay up with it. It's quite an interesting process. That makes it exciting," Frye says.
After all these years, Frye still combines his creative and problem-solving sides to "look at different ways of doing things."
"We've got a job to do, and we just continue to do it," Frye says. "That's the story."
Frye's wife, Sallie, worked with him from the beginning of Frye Electronics when they started off selling hearing aids to audiologists and schools for the deaf.
"I made the decision that I would go back at that point and get a master's in audiology, so I would know the language," says the former English teacher.
While she used to write manuals for the company's products, Sallie now heads its marketing department.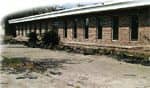 A close knit group, most of the staff members at Frye Electronics have been with the company for more than 20 years.
The company has expanded as a family-run business with the addition of three of the four Frye children to the staff—even though two of them were not even born when their parents started the company.
The youngest son, Patrick, does all of the company's video work, including product demonstrations. Daughter Kristina is the assistant marketing manager, and also helps customers with questions about products, and has written a number of operation manuals. Daughter Katherine assists the company in maintaining standards established by the International Organization for Standardization.
To add to that, Kristina's and Katherine's husbands also work with the company, as a programmer and a purchaser, respectively.
"It's worked out well. Everyone seems to work together well—not too many fights," Frye says, laughing.
Kristina Frye says she did not always envision working for her parents' company, but knew it was the right place for her after she started working for the local gas company after college.
"It was this big corporation, where my boss had a boss who had a boss, and I really didn't like it very much because I had always done summer work here and had grown up around our company, which is really small and family-oriented, and I had gotten used to that. Working in a big corporation is just a much different environment," she says. "Our company is nice because almost everyone who works here has been here for over 20 years, and it's like a big family. It's nice because I've known these people my whole life.
"I've grown up in this industry, and gone to conventions when I was a kid. I've grown up knowing different people in the industry. We have a lot of really good supporters of our products in academia, and it's been really interesting and fun to get to know all these very well known researchers," she says.
The people she has met over the years have also raved about her father, and the products he has helped create to make their work easier.
"It's nice being able to go to conventions, and no matter where they are, everyone always knows my dad. That's always been interesting. It's great that he's had such a positive impact on so many people, and that people think so well of him," Kristina says.
Maintaining a small, family-run business—and more important, having it thrive—among larger competitors can be a challenge.
"A lot of companies just traditionally get sold and disappear and get absorbed into bigger companies," Frye says. "We've got a lot of people who have been working here for a long time, and if we sold the company, it would disappear, and all these people would be without work, and that's not fair to them. Money is not worth that.
"We're small potatoes in a small industry, but that's OK. It's something that's worth doing, and we try to do a good job of it. We're very fussy about what we do. We're still learning, and that's been fascinating. We're still learning about how ears work. For me, that's always interesting: the outer hair cells versus the inner hair cells, and otoacoustic emissions—a lot of those things are just fascinating. The hearing business is a well worthwhile one. It gives our job meaning and substance," he says.
Frye's business philosophy is simple: "One can't be too dictatorial," he says. "We give people jobs to do, and they do them. They have the initiative. We need people with initiative and the interest to really do a good job, and I think that's why people stay here. They're given responsibilities, and they're given the authority to take care of those responsibilities. That's important—the combination of authority and responsibility; you can't have one without the other."
Frye Electronics may be "small potatoes," but that can have its advantages in the marketplace.
"I think it gives us an edge because [our competitors] know who we are, they've seen us for years, and the fact that our products are very well known and have a reputation for reliability," Sallie says.
Sallie also credits the personal relationships the company has developed over the years with individuals and other companies around the world as also making a difference.
"Right from the start, we sold outside the country. Over time, our international business has broadened as people know who we are, and that we've got a good reputation, and that if we send them a product, it's going to work. It's not like you have to introduce yourself to them; you're known," she says. "We feel like we're in touch with the whole world. It's a wonderful experience to know that you are involved with all of these people, and they all have a common goal, and that is to help people with hearing loss."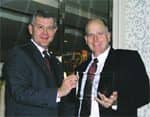 An employee in the workshop of Frye Electronics. The company's products are marketed around the world.
Frye Electronics has also established those personal relationships by offering training sessions at its facility for its customers to learn how to use its hearing aid analyzers.
"We've been trying to build up a network over the years of people who use our products all the time, and people who are already teachers, to show other people how to use them," Kristina says. "We've brought a lot of people out here to give training, so they can learn how to use our products and we can meet with them, and then they're available as trainers for other people.
"We're a small company, so I can't spend all of my time flying around the country, giving training. So we've developed these technical experts who are available to give training, and when we develop a new product, they can go in and give an in-service. That's helped a lot. They've also been available to give a talk somewhere," she says.
The training sessions are held once a month or so, depending on the need, and usually involve four to five individuals at a time, so they receive one-on-one attention to best understand how to use the company's products for their needs.
Decades after helping his mother, Frye's products continue to solve people's problems—even his own sometimes.
"I was working on a project the other day, and I had a type 5000—which was our first instrument, built 30 years ago—and I needed a pure tone. I said, 'I wonder if that thing still works.' I plugged it in, it took off, and I took an output, and sure enough, it generated a pure tone, which was just what I needed. It hadn't been used in years," Frye says. "Problem solved."
Danielle Cohen is associate editor of Hearing Products Report.