Oticon's "Pink with a Purpose" Campaign Supports Breast Cancer Awareness and Research
On October 17, Oticon Inc celebrated its seventh annual "Pink with a Purpose" pink-themed campaign with the presentation of a check for $10,000 to the National Breast Cancer Coalition (NBCC).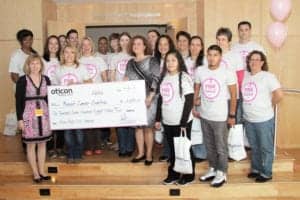 The national campaign runs throughout September and October, which is National Breast Cancer Awareness Month. Oticon's campaign promotes messages about hearing health and breast cancer awareness and helps to raise funds to support lifesaving breast cancer research. The company donates a portion of the proceeds from the sale of its special edition pink Alta hearing aid and the entire Alta family to NBCC to support the group's mission to end breast cancer through action and advocacy.
"The National Breast Cancer Coalition is extremely grateful to Oticon and its many professional partners for their ongoing support of NBCC's mission to end breast cancer," said NBCC Board Member Joy Simha. "This donation will allow us to continue to bring experts and visionaries together to reframe the approach to science and research to focus on preventing breast cancer and saving women's lives."
Simha accepted the donation from Oticon at a special Breast Cancer & Hearing Health Awareness "Pink Day" held at Oticon Headquarters.  Pink Day featured a variety of health education activities including a presentation by Kathleen Ianunzzi of St. Peter's University Hospital who provided breast health and wellness advice to the Oticon team.
100 Oticon Employees Made Strides for Breast Cancer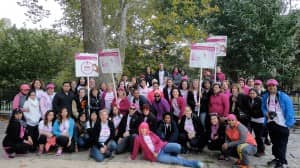 The company's support activities continued on Sunday, October 19, when more than 100 employees from Oticon arrived in New York City to participate in the country's largest breast cancer walk.  Wearing various shades of pink, employees added their numbers to the more 60,000 participants—breast cancer survivors and those still fighting the disease, their family members, and friends—who walked five miles through Central Park to raise awareness and charity funds to help fight the disease.
Source: Oticon