With the acknowledgement that risks are necessary for progress, the HITEC family will embrace the challenge of manufacturing in 2004.

Enter the offices and showroom of HITEC Group International Inc in Burr Ridge, Ill and it is likely that you will spy a stuffed purple cow lounging in a prominent position amid the amplified telephone systems and assistive listening devices. The miniature bovine is not a decorative tchotchke brought in to liven up an employee's desk, nor is it a nod to the state's livestock industry.
"The purple cow is something of a company mascot," explains vice president Michele Ahlman. "It's our inspiration to stand out from the crowd." "The analogy is, when you drive down the road and see a herd of cows, you think, 'Cool, cows.' (At least here in the Midwest you do.) But once you've seen one herd of cows, they all start to look the same. The purple cow, on the other hand, stands out— it's remarkable. Having the purple cow as our mascot is a reminder to us to always be remarkable at what we do."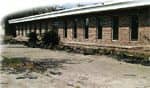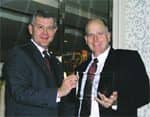 In the beginning, HITEC operated out of the Uzuanis' family home. Now, an internationally recognized company, it is housed in a spacious complex, with an inviting showroom.
Assistive Communication
What Hitec does do is provide assistive communication devices to customers throughout the United States and beyond—and it has been doing so since 1982, when the company was incorporated by Ahlman's mother, Madelaine Uzuanis. Uzuanis was one of the area's first distributors for a major TTY manufacturer, according to Ahlman, who has been helping her mother with the business since the age of fourteen.
"In the beginning, like many entrepreneurial businesses, the company operated from my family's home, but it soon outgrew that space and we moved into an office building," she says. "We now have a large showroom and warehouse with a 100% closure rate on sales in the showroom. When a customer comes in and picks something up to try, they buy it. We have not had anyone walk out without purchasing an item."
The company's biggest sellers are amplified telephones, followed by other amplified communications system like the SoundWizard, television listening devices and signaling devices. HITEC has never simply been a showroom and warehouse stuffed with products, however. From the beginning, the company focused on meeting the many needs of its customers in innovative ways.
Uzuanis, designed and implemented one of the largest state distribution networks in Illinois, utilizing community-based independent living centers as the point of recipient distribution for text telephones (TTYs). HITEC oversaw that activity throughout the state for 6 years. This has become one of the standard models for large distribution programs. When the Americans with Disabilities Act (ADA) was passed in 1990, HITEC experienced 500% growth as it began working with major hotel chains to design the first guest room set for the hearing-impaired.
"We took all of the ADA-compliant products available for those with hearing loss and packed them together into a heavy-duty travel case, which we sold to the major chains," Ahlman says. "Now that is the standard in the industry."
Today, HITEC is the special needs center for Southern Bell Communications (SBC), which involves the promotion of assistive products nationwide, and the company also manages the special needs program for Sony Ericsson and T-Mobile.
Locally, HITEC operates a call center staffed by customer solutions representatives and the company has pioneered new technology with TTY communication that involves a server-based integration of the public telephone switch network and the TTY. According to Ahlman, this technology has served as a solution for primarily government and large commercial organizations like the Chicago public school system and the State of Illinois to comply with new standards set by the Federal Trade Commission concerning interactive voice response systems.
"A big part of what we do is innovating, and we are always walking on the edge," Ahlman says. "We work hard not to fall into patterns that would not allow us to think creatively, and we are always willing to take a risk."

Proudly displaying the company's purple cow mascot are, from left, HITEC's sales staff members Linda Gallas; Michele Ahlman, vice president; Diana Opiela, and Michelle DeBoer.
Those risks are backed by solid research, as Ahlman points out. HITEC's employees spend a lot of time talking with customers about hearing loss and their lifestyle, as well as their needs outside of what is going on with their hearing.
"We want to know how they live so we can determine how our product fits in with that," she says. "Our strength is to bring relationships together and work with people in education and awareness, as well as in product solutions. We have continued to grow based on those strong relationships, building our own dealer network with individuals who resell our products into the community."
Moving on to Manufacturing
While HITEC has previously ventured into creating a few products for hearing loss and mobility issues, in 2004 the company is going even further by dipping its toe into manufacturing.
"This will be a critical year for us," Ahlman predicts. "We have traditionally been strictly a distributor, but we see our strengths are in finding solutions and converting that knowledge into more effective product solutions. We've been effective distributors so a lot of people turn to us for our knowledge, which is extensive. After listening to customers asking us when we would come out with our own product line, we talked to a variety of engineers and audiologists and decided the time was right."
Drawing on 21 years of customer input, HITEC identified some key issues for its prospective products: functionality, price points, and style.
"As the population changes, products need to be multi-functional and cost-effective," Ahlman says. "We have learned that our customers need value-added service. They want a complete solution, and that means they want something that looks good too. So we are introducing new element of style in our line."

Clockwise from top, left, are HITEC's operations staff members Debbie Crab, Mark Samora, George Hurt, Sue Fischer, and Denise Storey.
One of HITEC's first three products is the Sound Wizard II, an upgrade of the original personal communication system. The device includes a module that allows the unit to be converted into an infrared receiver for 95 kHz infrared systems, and a phone module so that the phone amplifier offers the same power and functionality as the original Sound Wizard. It is also designed with two headset jacks, and the requisite stylistic touches.
"This is a handheld amplification device that incorporates two high-powered mikes to allow customization of amplification," she says. "You can direct it at an individual or use it to amplify the environment. We also designed it to be ergonomically comfortable and look stylish."
The second major product is the Freedom Phone, a full-feature desktop amplified telephone. Ahlman says it is the first in this industry with caller ID, and has a built-in phone book, two headset jacks to allow for use of almost any accessory, and an optional bed shaker.
"That way the customer can be alerted when they are sleeping," Ahlman says. "There is also a strobe signaler as opposed to the typical small flashers, and amplification using a special handset boost button that takes the volume up to 50 decibels maximum. Most people purchase higher-amplification phones as they age and their situation changes. From all our customer's input, we determined that they would like to be able to use that extra high-level amplification when necessary to avoid setting the volume up and down all the time. With this model, they can simply press the handset boost to add another 10 decibels of gain."
The phone includes two sizes of headset jacks to allow for use of almost any accessory, and has an amplified speaker built in to offer hands-free operation.

HITEC customer solutions consultants are available for consumers with product questions.
HITEC's third product is the Liberty Phone, which Ahlman says is a $59 amplified trimline phone that is unlike any other currently on the market.
"We moved forward with this one because we saw a need for an effective amplified phone that was simple and small," she says. "Our model offers up to 30 decibels of gain, and has bigger buttons and a simple design. The customer can simply pull it out, plug it in, and they're ready to go."
HITEC will be launching three more products in the first quarter of 2004: a separate phone ring signaler; a large-display alarm clock with a phone ring signaler built in; and a portable amplifier that is universally compatible.
"Again we will be focusing on style, and all these items will have a bit of a different look than what is available now," she says. "They will also be made of dirt-resistant plastic, which is one issue a lot of people have with these products. They tend to look horrible after a few years because they get dirty. In addition to changing the plastic we will be using different colors, and we hope those things will really make a difference in wear over the years."
Necessary Risks
Though Ahlman admits that moving into manufacturing will definitely be a challenge for HITEC, she knows that with innovation come necessary risks.
"We have reworked our 5-year strategic plan and annual business plan. Much of the challenge ahead is just a matter of tapping into our street-smarts and moving forward with the same focus on the customer," she says. "Culturally, there is no change for us. We love what we do and we are having fun. Operationally and strategy-wise, it's a natural progression in that we have designed and manufactured limited product in the past as well as done some OEM products."
"We do value our relationships with the manufacturers we represent, so the fact that our latest venture will put us in some level of competition with our friends is bittersweet," she adds. "But we know this will be great for our customers. We know that we are doing the right thing by providing new solutions to people along with the solutions we have effectively offered for many years. Making a difference is very important to us and the needs of our customers drive everything we do."
Liz Finch is a contributing writer for Hearing Products Report.