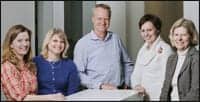 Members of the Ida Institute include (left to right) anthropologist Kirsten Lauritsen, MA; senior audiologist Lisa Wildmo; anthropologist Hans Henrik Philipsen; coordinator Anne Hedvig Westenholz, and director Lise Lotte Bundesen.
Are we missing the forest for the trees? The hearing care field is often wrapped up in the minutia of resolving people's hearing problems by using various forms of hearing assessment, patient education and consultation, selection and fitting, as well as post-fitting adjustments, verification, counseling, aural rehabilitation, and validation. Dispensing professionals often find themselves obsessing over word recognition scores, MCL/UCLs, hearing in noise performance, and prescriptive gain targets. And this is all good and necessary. However, what does the scientific and clinical evidence really tell us about when patients decide to seek hearing help, how they perceive hearing care services, what actions are effective and satisfying for them, or how much benefit is derived from these myriad facets of professional hearing care?
$10 million grant. The William Demant and Wife Ida Emilie Foundation wants to know the answers to these types of questions. With a $10 million grant, the Foundation has created the Ida Institute to support hearing care professionals in helping hearing-impaired people address the challenges associated with hearing loss.
Named for Ida Emilie Demant, the Ida Institute is seeking to clarify the patient journey and equip dispensing professionals with information that will enable them to enhance the journey for their patients. The undertaking is being headed by Ida Institute Director Lise Lotte Bundesen, an expert in the fields of strategy, communication, ethics, the environment, and social responsibility. Prior to joining the Institute, Bundesen was the initiator and driving force behind the environmental activities and policies of Novo Nordisk, a widely hailed Scandinavian company that has embraced a "triple bottom line" philosophy encompassing social, environmental, and economic dimensions.
"What the Ida Institute will examine is the process of hearing loss that people experience—from the realization of possible hearing loss, to acceptance, to finding the right solutions and learning how to live a full life with their hearing impairment," says Bundesen. "Basically, this is what we refer to as the patient journey. We want to explore the many physical, sociological, and psychological barriers that an individual encounters on this patient journey in order to enable hearing care professionals to provide even better care and counseling."
How well the patient journey goes is largely determined by how well the patient is guided along the way. The Ida Institute will address the various stages of the patient journey, and endeavor to come up with new tools, guidelines, and recommendations directed at hearing care professionals. The materials generated will eventually be available to all dispensing professionals on the Institute's soon-to-be-launched Web site.
Viewing the Patient Journey From New Angles
In addition to Bundesen, the Institute currently employs audiologist Lisa Wildmo, AuD, and two anthropologists, Kirsten Lauritsen, MA, from Copenhagen University, and Hans Henrik Philipsen, PhD, a senior health advisor at the Norwegian Embassy in Uganda and the Danish National Board of Health. Additionally, Anne Hedvig Westenholz will serve as institute coordinator, similar to the post she held at the highly respected Lundbeck Institute.
Their appointments reflect the Institute's commitment to exploring a wide range of approaches in hearing care research and human relations. But why anthropologists? "They have a different way and different methodologies for finding out what people do and why they do it," explains Bundesen. "They also have different tools than what the hearing industry is generally used to seeing, and I think the field of anthropology is being increasingly utilized in business today because it is another interesting perspective and way to analyze things.
"We will, of course, also utilize audiologists and psychologists, as well as other disciplines," continues Bundesen. "However, the use of anthropologists is just one unique approach we're taking, and one that we feel is likely to reveal new insights and ideas."
An Independent, Educational, Collaborative Forum
The Institute will also recruit respected academics and independent specialists to serve on its faculty. These experts will work with the Institute to develop insightful educational materials and conduct relatively small, intimate, international seminars of about 30 people each at its headquarters in Denmark. The seminars will focus on various aspects of the patient journey, says Bundesen, and the first of these seminars is slated for Fall 2008. As the Institute moves into 2009, it hopes to host as many as a dozen of these meetings annually.
The Institute also plans to appoint an International Advisory Board made up of leading researchers, educators, and practitioners in hearing care, as well as other disciplines. "Everyone who will work with us will do so as individuals, and not as representatives of various organizations or companies," says Bundesen. "The Institute will not represent commercial entities or professional organizations, but will instead focus on topics and areas that can deliver the maximum benefit for hearing care professionals, the industry, and the consumer." Board members will be appointed for two years, and will assist the Institute in identifying the topics and the experts who will participate in its many events.
An evolving mission. During interviews, trade magazine editors want hard facts, as well as lists of goals, methods, and possible outcomes. Yet, when pressed, Bundesen is careful to note that the Institute is still in its early development phase. "We are at the beginning of a process," explains Bundesen. "The fact is that we're an independent, collaborative, educational forum. We're planning on engaging experts in diverse disciplines and from a variety of settings. But, at this point, it's too early to predict what the final outcome of the Institute will be. After all, the development of the Ida Institute is also a process that will involve a number of experts. Since we truly want to engage these people—and we know they will contribute in profound ways to the process—they will have a great influence on our eventual outcomes. So, I think it's too early to state definitively what that outcome might be."
However, she would allow that it's likely the Institute will draw its approaches from best practices and evidence-based designs. "We definitely want to gather all the data and research relative to best practices and solid science," says Bundesen. "And we hope to synthesize these in new ways to see if there are things missing, or if there are areas of knowledge that are weak. We definitely want to have a sound scientific basis for what we do…Ultimately, the Institute will serve as a catalyst for knowledge-sharing and the development of innovative and practical tools. We'll work with our faculty and advisory board, as well as the experts who they recommend, to explore a range of topics. However, at this early stage in the process, we're not quite ready to pinpoint specific topics or describe what the actual outcomes might entail."
Making a Difference
In the business world, Bundesen has been instrumental in bringing innovative concepts to fruition in a variety of contexts. What made her decide to venture into hearing health care and the consumer journey? "The idea of the patient journey is an idea whose time has come in hearing health care," says Bundesen. "I think the Ida Institute can be instrumental in gaining acceptance for a more all-encompassing or integrated way of helping people who have hearing loss. There seems to be a void to fill here. Personally and professionally, I'm also very motivated by creating something new from scratch; in this case, with the purpose of truly making a difference for people with hearing loss."
---
The Web site for the Ida Institute is scheduled to go online by mid-April and can be accessed at www.idainstitute.dk. Correspondence can be addressed to [email protected] or Lise Lotte Bundesen at .