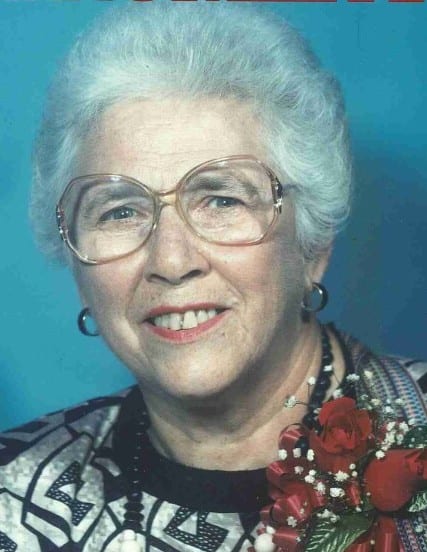 Marjorie D. Skafte, the longtime editor and publisher of Hearing Instruments magazine and publisher emeritus and a founding editor of The Hearing Review, died on October 25 at age 99.
Skafte was born in the small farming town of Osseo, Wis, graduated from St Olaf College in Northfield, Minn, and came to Duluth, Minn, with her husband shortly after they married. Working first as a substitute teacher, she accepted a job opportunity at Ojibway Press (later purchased by Harcourt, Brace, and Jovanovich) in 1964—a time when few women were involved in guiding editorial for publications. From humble beginnings, she rose the ranks from assistant editor, to managing editor, then was promoted in March 1970 to editor of Hearing Dealer magazine, one of HBJ's most revered monthly trade magazines (it had been a career starting point for former Hearing Dealer Editor Bob Edgell who eventually rose to prominence as HBJ's vice chairman, and he later purchased part of the company and renamed it Edgell Communications). Skafte lobbied successfully for changing the publication's name to Hearing Instruments in August 1973.
Skafte propelled Hearing Instruments to become arguably the premiere hearing care publication of the 1970s and 80s. She would become editor-in-chief and then editor-publisher of HI, excelling in the dual role of producing editorial and selling ads for the magazine. In the late-80s, she retired after HBJ relocated its editorial offices from Duluth to Cleveland. In 1994, at age 73, Skafte teamed up again with former HBJ VP Lars Fladmark, as well as publishing veterans Shirley Brandt, Pauline Davies, Pat Kelley, and Karl Strom to start The Hearing Review. Skafte was publisher-emeritus and editorial director/consultant, and later company vice-president, until Fladmark Publishing sold HR in June 2000.
Skafte's editorial work was highly influential during an important era for the hearing healthcare field. The late-1960s, 70s, and 80s ushered in huge changes: new technology including the ITE revolution, audiologists dispensing hearing aids and forming ADA and AAA, new diagnostics and cochlear implants, and a completely new regulatory environment. Skafte reported on it all, while working with the most prominent engineers, researchers, clinicians, and marketers of that time. First and foremost an advocate for consumers (and often using her hearing-impaired mother as an example), Skafte's editorial direction was guided by one overriding question: What's the best way to promote better hearing healthcare, helping more people with hearing loss while growing the market? She was a strong proponent for the establishment of the Better Hearing Institute, a Lifetime Career Honoree of the International Hearing Society, and served for years as honorary secretary of the Hearing Industries Association. With the assistance of Brandt, Skafte's 2-part monograph, 50 Years of Hearing Healthcare, 1940-1990, published in the August and September 1990 editions of HI was perhaps her crowning career achievement, and still stands as one of the most comprehensive histories of the field during that period.
But Skafte will perhaps be best remembered in hearing healthcare as a good friend and mentor. As a longtime chronicler of industry events, she often served as wise counselor and confidante to leaders of companies, clinics, and professional organizations. She was always a person who would listen intently and then add whatever she could with her intelligent and almost motherly advice. She truly cared about her readers and authors, the industry, and the professional and advocacy organizations involved in hearing healthcare—and constantly implored them to work together for the good of consumers with hearing loss.
Entering semi-retirement in the late-1990s, Skafte took a keen interest in seniors' issues and lifetime learning. She was involved in Sertoma and also became a charter member of the University of Minnesota-Duluth's "University for Seniors" program. Although never wearing it on her sleeve, she was a deeply religious person and an active member of her Lutheran church. She also served on the boards of several organizations and foundations in Duluth. Marj was not a person who was at ease standing still; she had a very strong work ethic and seemingly boundless energy—and the world is better for this fact. Additionally, as impressive as her professional accomplishments were, the love of her children, grandchildren, extended family, and friends were what made Marj really shine.
Skafte was preceded in death by her son and daughter, Linwood "Woody" Skafte (Mary) and Patricia Pearman (Noel). She is survived by her two children, Merilee Main (James) of Portland, Ore, and Robert Skafte (Suzanne) of Cotton, Minn, as well as many grandchildren, great grandchildren, and friends. Memorial services are planned for a later date. To read her official obituary, please click here.
Karl Strom is editor-in-chief of The Hearing Review and has been reporting on hearing healthcare issues for over 25 years. He worked with Skafte for over 6 years and considers her a great mentor.