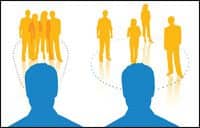 It's been an exciting time leading up to the day we ship this issue off to press. If you haven't been out there with your blinders on and your hearing aids off for the better part of September and October, I'm guessing you've heard of the bidding war that developed between William Demant Holding (WDH), parent company of Bernafon and Oticon, and GN Store Nord (ReSound), both vying for the hand of Otix Global, parent of Salt Lake City-based Sonic Innovations.
I'm sure it's much more complex and choreographed than this, but allow this wallflower the following metaphorical nutshell: WDH asked Otix to dance, Otix said, "Charmed, I'm sure!", and in the middle of what looked to be a really smooth waltz, GN suddenly cut in and said, "Let's get ready to rumba!" Not content to be jilted, WDH cut right back in and a bit of a tug-of-war ensued between the Danish rivals with Otix in the middle, and the rest of the industry watching and listening (and maybe placing a side bet or two as to who would emerge victorious). In the end the price tag stood at $64.2 million, $14.2 million more than WDH's initial offer of $50 million, and it was essentially GN's next move to make, at least until Otix released a statement October 20 stating that they were stranding GN on the dance floor and—as the old cowboy saying goes—leavin' with the one that brung 'em.
Got a New Product?
Will Loves to read all about them and share them with his readers. Send information and a print-ready photo of it via e-mail to him. It's that simple.
I suppose most people, be they inside those companies or just spectators, are happy the show's over, but I for one thought the dance ended too soon.
Will Campbell
[email protected]