By Susan Murad, Director, Public Relations and Tech Transfer, NTID
Rochester Institute of Technology's National Technical Institute (RIT-NTID) for the Deaf announced the appointment of Pamela Lloyd-Ogoke of Garner, NC, as chairperson of the college's National Advisory Group.
Related article: RIT/NTID Offers Tips on Conducting Virtual Interviews with Deaf, Hard-of-Hearing Candidates
Members of the NTID National Advisory Group, whose appointments are approved by the US Department of Education, advise the NTID president in developing and carrying out policies governing the operation and direction of the college. The group comprises professionals concerned with the education of deaf and hard-of-hearing students, professionals concerned with postsecondary education, and individuals familiar with the need for the services provided by NTID.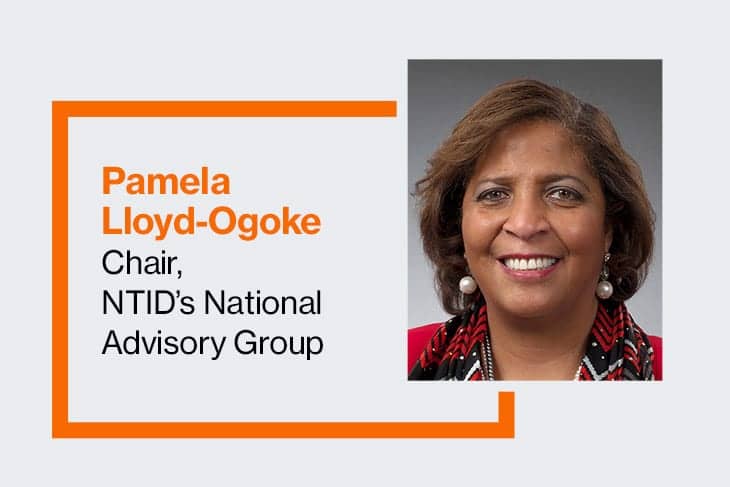 Lloyd-Ogoke is an RIT/NTID alumna and currently serves as the chief of community integration services and supports for the North Carolina Division of Vocational Rehabilitation Services. She has nearly 40 years of experience in the deaf and disability communities and 16 years of experience in the field of higher education, including six years at RIT, where she served as a faculty member and the university's coordinator for disability services and ADA compliance officer.
A member of the NTID National Advisory Group since 2017, Lloyd-Ogoke also serves as a national external advisory committee member for the National Center for Deaf Health Research and is president emeritus of National Black Deaf Advocates. She previously served on the board of the National Association of the Deaf and the Gallaudet University board of trustees.
"Pam brings a wealth of knowledge and experience to NTID's National Advisory Group," said NTID President Gerry Buckley. "She has demonstrated an unwavering commitment to improving the lives of deaf and hard-of-hearing individuals throughout her distinguished career. I look forward to working with her as the advisory group chair."
"Every deaf, hard-of-hearing, and deaf blind student deserves a pathway to success and an opportunity to achieve their goals," said Lloyd-Ogoke. "I am eager and excited to lead NTID's National Advisory Group in supporting the college's mission to serve students and provide a quality, state-of-the-art education that prepares them for careers in the rapidly changing global marketplace."
Lloyd-Ogoke replaces outgoing chair, Christopher Lehfeldt, a dentist in private practice in Rochester. Lehfeldt has served on the NTID National Advisory Group for six years.
"Chris has led the NTID National Advisory Group with distinction, and we are grateful to him for his service and his commitment to our students and our college," said Buckley.
Lloyd-Ogoke's term as chair begins in January 2021.
Source: RIT
Image: RIT