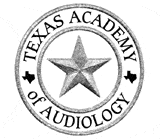 The 2013 Texas Academy of Audiology's Annual Meeting will be held October 24-26, in Richardson, a suburb of Dallas. The Texas Academy's conference theme this year is "Dallas: Our Family Is Fighting for Texas Audiology and You!"
Top presenters in the field will be presenting on current pertinent topics for audiologists and hearing care professionals, such as Coding, Auditory Neuropathy, Audiology and Athletics, Wideband Tympanometry, Sound Perceptual Differences, Tinnitus Management, Management of Hearing Impaired Students in a School Setting, Evaluating Hearing Aid Effectiveness, Social Media, Collaborative Evaluations of the Hearing Impaired, as well as a session on Hot Topics in Texas Audiology.
The TAA conference is approved by AAA for 1.1 CE units, 0.6 Tier 1 CE units, and Ethics CE units also. More information on the Texas Academy of Audiology can be found at www.texasaudiology.org. Conference registration is now open at www.texasaudiology.org/conferences.asp.