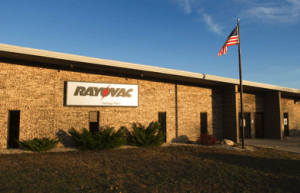 Rayovac's plant in Portage, Wis, recently celebrated 50 years of operation. The company is a division of Spectrum Brands, Inc, which is a subsidiary of Spectrum Brands Holdings Inc, headquartered in Middleton, Wisc.
All Rayovac hearing aid batteries are produced at the Portage plant or at a companion facility in the United Kingdom. Each year, the facility manufactures hundreds of millions of hearing aid batteries—its primary focus—while also producing a large quantity of lithium batteries.
The Portage plant was constructed in 1963, with production commencing in 1964. From that point, the Rayovac Portage manufacturing facility has continually grown in both size and scope of production. By 1977, production demands had grown beyond manufacturing capacity, so Rayovac moved into its current facility on Portage Road. In 1982, the facility began producing zinc air batteries.
"The Portage plant has been successful for the past half a century because of the adaptability of the workforce as well as continual investment in product development and new technology," says Dave Young, Portage plant manager. "The plant's steady growth through the years is a testament to the commitment and effort of everyone working at this facility."
At the 2012 In Business Sustainability Awards Program, the plant won the prestigious Eco-Product of the Year Award for eliminating mercury from its hearing aid batteries and the Eco-Efficiency Initiative of the Year Award in recognition of its effort to improve the plant's practices and achieving a reduction in its carbon footprint.
Source: Rayovac