Phonak was among select companies from around the world to receive the prestigious Gold Stevie Award at the annual Stevie Awards Gala held February 25 in Las Vegas. Phonak Director of Customer Care Tara O'Dell accepted the top honors in the "Customer Service Team of the Year-Recovery Situation" Category on behalf of the company.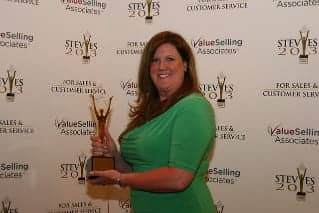 Tara O'Dell accepted the Gold Stevie Award
on behalf of Phonak and the company's Customer Care Team.
"I want to thank the Stevie Award Judging Committee for acknowledging Phonak's service commitment," said O'Dell to the hundreds of ceremony attendees. "There are 35 million adults and children in the United States with hearing loss, and the Phonak Customer Care Team plays an integral role in helping those with hearing loss by providing service and technical counsel to the thousands of hearing healthcare professionals across the country who treat them. So on behalf of the team and everyone at Phonak, let me close with a very audible, very appreciative 'THANK YOU' to all."
Phonak beat out more than 1,100 entries from organizations worldwide representing hundreds of industries, according to the company. Other medal winners in the same category include Allscripts, Chicago; ILEE, Hatfield, Hertfordshire, UK; DiCentral, Houston; LifeLock Inc, Tempe, Ariz; and Sundance Vacations, Wilkes-Barre, Pa.
"The internationally recognized Stevie Award is an extremely important achievement to us, demonstrating our ongoing commitment to create a consistent, scalable, sustainable competitive advantage within Phonak in support of our Phonak mission," said Phonak President Jeff Newnham. "It is paramount to us that we provide service excellence to hearing health professionals so that they, in turn, can easily fit people with the most innovative hearing solutions available today."
SOURCE: Phonak