The International Hearing Society has announced that Thomas Higgins, ACA, BC-HIS, began his 2-year term as president of the International Hearing Society (IHS) on January 1, 2013. Higgins has been an active member of the Society since 1992 and served on the IHS Board of Governors twice, from 2000 to 2002 and 2009-2011. Higgins was sworn in to the top position during the Society's annual business meeting held at the 61st Annual IHS Convention & Expo in Arizona, September 21, 2012.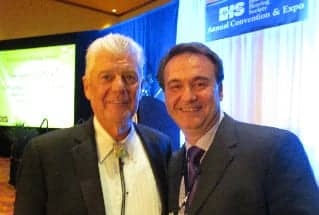 IHS President Tom Higgins, ACA, BC-HIS, (left, pictured
with 2012 HR Professional Leadership Award Recipient Mike Stone) at the 2013 IHS Convention in Glendale, Ariz.
"I am honored and excited to be the President of this great Society," said Higgins. "I feel fortunate to be in this profession, helping so many people improve their lives through better hearing, and I want to do my part to support IHS and ultimately secure our place in the future so we may help more people."
Higgins entered the profession in 1985, after serving in the Navy, and after a successful sales career in the clothing and beverage industries. His career in hearing healthcare began when he joined a Miracle-Ear franchise in Syracuse, NY, eventually going on to become a regional manager in the Northeast for Miracle-Ear. In 1996 Higgins opened his own practice, Advanced Hearing Services, in Ramsey, NJ, which he still owns and services patients at daily.
Higgins is married to audiologist Pat Connelly, PhD, who serves as the current Chair of IHS's educational committee, the International Institute for Hearing Instrument Studies Committee (IIHIS). The couple met in 1992 at an IHS convention in Dallas. Higgins will serve as the Society's president until December 31, 2014.
Source: IHS