VARTA Microbattery shows the full assortment of its unique hearing aid battery in the premium brand, power one.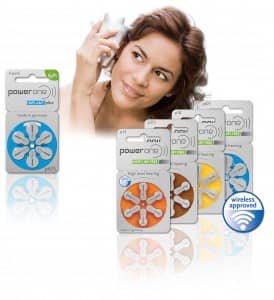 Under the slogan "power one connects" VARTA Microbattery is exhibiting at EUHA 2016, the International Congress of Hearing Aid Acousticians, held October 19-21, 2016 at the Deutsche Messe, in Hannover, Germany. VARTA is exhibiting the latest generation of its high-performance hearing aid batteries in Hall 6, Booth D01.
According to VARTA Microbattery, power one hearing aid batteries are manufactured in the world's largest and most modern production site, producing batteries that are "Made in Germany" and offer the perfect energy supply for every hearing aid system.
The company says that its slogan, "power one connects," illustrates how the company is connecting people through better understanding, spatial hearing, and the ability to communicate–all of which is an important part of the power one philosophy.
The Environment is a Priority, Along with Precision Technology
VARTA reports that the power one brand has a high regard not only for people, but for nature as well. Environmentally-sound production processes and environmentally-friendly materials are emphasized as a matter of course. Further, power one aims to connect innovative energy solutions to the latest technology. The precision and reliability of fully automated production facilities guarantee the high quality of every individual cell.
VARTA says that its power one brand stands for new, innovative battery and manufacturing technologies and a unique range of hearing aid batteries, as well as the very latest rechargeable battery solutions.
The Launch of the New power one App 2.0
On the occasion of the EUHA 2016, the 61st International Congress of Hearing Aid Acousticians, a new version of the power one App will be launched. The new version includes a user-friendly battery calendar with an automatic running time identification and extended menu navigation. Hearing aid users and acousticians can benefit from the power one App 2.0 with useful functions like acousticians search, reminder function, health pass and battery guide, as well as a buying function. Please visit Exhibit Hall 6, Booth D01 for more information.
The power one mobile app for download is available from the Apple App Store, Google Play, and the Windows Store.
Source: VARTA Microbattery, power one