Unitron and European customers representing more than 7 countries gathered this week, September 21-22, in Barcelona, Spain, for Unitron's Engage annual conference to learn first-hand what it means to capture patients for life.
Hearing Healthcare Professionals Face a Shifting Landscape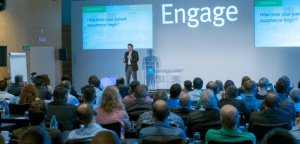 New types of patients, with new expectations and a new world of healthcare are creating opportunities and challenges for hearing healthcare professionals to redefine patient relationships. Guided by renowned experts in the areas of engaging with today's consumer and the digital healthcare revolution, Unitron customers attending the Engage conference explored the changing healthcare consumer, identify how frontline data insights can shape and improve the quality of care, and share tips and tactics for building strong, thriving practices.
"The entire healthcare landscape is evolving rapidly, as access to technology unlocks insights previously unavailable to practitioners," said Bruce Brown, vice president, Unitron Marketing. "Our job at Unitron is to put the patient at the center of our innovation to drive growth across the industry and guide our customers in understanding, adapting and succeeding in this new and different world of healthcare."
Unitron showcased the following keynote speakers at Engage 2016:
Jim Tincher, founder of Heart of the Customer, and a CCXP (Certified Customer Experience Professional). Read Jim's guest blog on the Unitron website 'It's all about the emotions.'
Dr Aenor Sawyer, associate director of Strategic Relations in the USCF Center for Digital Revolution, and a leading expert in health technology experience, including telemedicine, EMR design and implementation and the development of device and digital health solutions.
Steve Eagon, MA, Unitron's director of In-clinic Success, responsible for the mySuccess partnership program, supporting customers' success at the clinical and business level.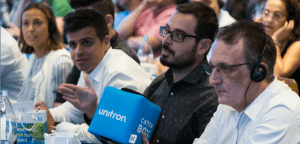 "Over the last year, I have had the privilege of working closely with Unitron's in-clinic success teams and the opportunity to share customers insights on changing healthcare consumer behavior with hearing healthcare practitioners across the industry," said Jim Tincher. "It is clear from all I have seen that there is tremendous opportunity for hearing healthcare professionals to close the trust gap between patient and clinician that continues to persist across the broader healthcare market. This Engage conference promises to provide Unitron's customers with the knowledge, tools and best practices they need to create exceptional experiences and create lifelong advocates."
To further amplify their conference experience, attending customers were fitted with a pair of the world's smallest wireless RIC, Moxi™ Now hearing instruments, the latest addition to Unitron's Moxi product family.
Unitron is a global company that works closely with hearing healthcare professionals to improve the lives of people with hearing loss. A member of the Sonova Group, Unitron has a proven track record of developing hearing innovations that provide natural sound with exceptional speech understanding. Headquartered in Canada, Unitron distributes its full line of hearing instruments to customers in over 60 countries.
Source: Unitron