Phonak and Advanced Bionics have announced the first International Conference on Adults with Complex Hearing Needs, which is scheduled for December 6-8, 2015 at the Sheraton Phoenix Downtown Hotel in Phoenix, Arizona. The scope of the conference, according to Phonak and Advanced Bionics, will include the full spectrum of hearing solutions for adults.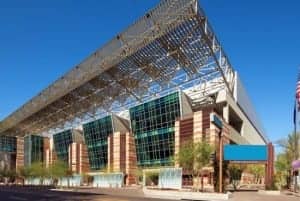 Over the course of the two-day event, leading experts in amplification, implantation and assistive listening devices from around the world will come together to share scientific knowledge and clinical experience. Phonak and Advanced Bionics report that the conference will be led by chairpersons Linda Thibodeau, PhD, professor of amplification and speech perception of the hearing impaired at the University of Minnesota, and Michael Dorman, PhD, professor, Barrett Honors Faculty and director of the Cochlear Implant Research Laboratory at Arizona State University.
There will be presentations from guest speakers, panel debates, poster sessions, and a technology suite are planned. The speaker roster includes Nina Kraus, PhD; Jace Wolfe, PhD; Andreas Buchner, PhD; Sam Atcherson, PhD; Rene Gifford, PhD; Jill Firszt, PhD; Anna Gilmore Hall, RN, MS, CAE; and Soeren Hougaard, among many others.
"This conference brings together an extraordinary group of international experts who bring years of experience in basic and clinical research to the problem of assisting listeners with severe-to-profound hearing loss," said co-chair Michael Dorman, PhD. "Attendees are sure to come away with a better understanding of the value of acoustic stimulation, electric stimulation and a combination of the two modes of stimulation for this group of listeners."
For more information about the event and registration, visit the Hearing Review event page.
Source: Phonak AG; Advanced Bionics