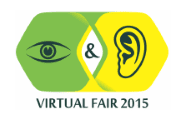 Phionik, a Germany-based company that puts together virtual trade fairs, is organizing the first international virtual optometry and audiology fair, Eye Ear Fair 2015, which offers exhibitors, visitors, and professionals a unique online exhibition experience. Exhibitors from all over the world will present their products and services in the areas of optometry, contact lenses, eye tests, accessories, and cleaning, and also audiology, measurement technology, and headphones.
The Eye Ear Fair 2015 will be held on November 6, 2015. Over 75,000 professionals from both industries have been invited.
Phionik reports that visitors can expect an interesting program during the 8-hour trade show, as well as the opportunity to learn about new features and make contacts–all from the comfort of your computer.
Phionik says that virtual trade fairs are catching on, due to the cost savings and many advantages offered with an online platform. In the virtual Eye Ear Fair, exhibitors can showcase their products online in an interactive booth, while visitors can get information, buy products, and make new contacts. Phionik is using the HyperFair technology to create an interactive virtual trade fair experience.
Exhibitors can feature and sell their products in an interactive booth with content ranging from downloadable brochures and documents, to videos and 3D products. They can easily get in contact with new prospective clients too and also have a live conversation via Skype. Details about the virtual booth and all options for exhibitors can be found at http://www.eye-ear-fair.com/en/exhibitor
Visitors can join the virtual Eye Ear Fair via an Avatar. The first step to join the fair is to create a virtual me. Equipped with a digital business card, your Avatar will hit the show floor, where you will meet colleagues, interact with business partners, and make new contacts. The talks and presentations in the Auditorio ??offer opportunities to expand your knowledge and network.
The registration and entrance is free if you register now.
About Eye Ear Fair 2015
The Eye Ear Fair is an interactive virtual 3D tradeshow where manufacturers, service providers, associations, experts, medical professionals and media from all over the world gather in order to do business, exchange business cards and showcase expertise, as well as to meet, debate and facilitate long-term business relationships on a real-time web platform.
Have a look at the show floor on YouTube.
For more details, or to arrange a live presentation, visit the Phionik website.
Source: ????Phionik GmbH, Erleweg 4 , 74211 Leingarten, Germany [email protected]