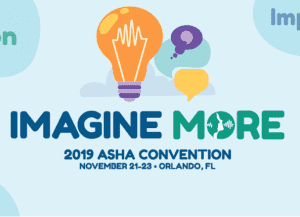 The latest research and clinical developments for diagnosing and treating communication disorders, which are among the most-common conditions that children and adults in the United States experience, will be presented November 21-23, 2019, at the annual convention of the American Speech-Language-Hearing Association (ASHA).
Held at Orlando's Orange County Convention Center, the opening General Session for the convention starts on Thursday, November 21, at 8:30-10 AM, and the Exhibit Hall will be open from 9AM-5PM, with lunch served in the hall from 12:30-2PM. Short courses are offered throughout the day, as well as a welcome event in the exhibit hall from 4-5PM.
See ASHA's Schedule at a Glance for details and the other special events held during the convention.
Encompassing speech, language, social communication, swallowing, hearing, and related conditions, the presentations will be made by national and international experts in the discipline of communication sciences and disorders. Convention session highlights include:
Gestures in children with autism
Parent-child reading and academic achievement in 3rd grade
Auditory brainstem implants in a Los Angeles clinical trial
Toys versus iPads in children with speech and language disorders
Disproportionality of African American student enrollment in the IDEA category of "Speech or Language Impaired" (S/LI)
Vaping's influence on voice, pulmonary, and vascular functions
Cognitive advantage in children who speak African American English
As just one example, Amy Schaefer Martinez and Dianne Ganguly of the University of Southern California will be presenting Auditory Brainstem Implants (ABIs)—Outcomes and Observations From a Los Angeles Pediatric Clinical Trial. Cochlear implants (CIs) are often an option for children born with severe to profound hearing loss, but if the child is born with absent or severely damaged cochleae or cochlear nerves, an auditory brainstem implant (ABI) may be the only prosthesis option. An ABI bypasses missing or severely damaged organs to stimulate the auditory pathway at the level of the brainstem. Currently, in the United States, ABIs for young children are available primarily under Food and Drug Administration (FDA) investigative trials. The Los Angeles Pediatric ABI team is conducting an FDA-approved safety and feasibility study of ABIs in children implanted at 2-5 years of age. This session highlights ABI technology, the study protocol, clinical outcomes, and observations documented by the Los Angeles Pediatric ABI team. As part of the study, 10 children underwent candidacy evaluation; six children were deemed candidates and were surgically implanted with an ABI. Three children within the first 5 years of ABI use demonstrated the ability to rely on hearing to select the correct picture from a small set of choices when the object names differed by syllable number. For example, if asked to point to "shoe" from the choices "popcorn, shoe, ice cream cone" the children selected "shoe." One child demonstrated some word identification skills on standardized speech perception measures. Skill levels and rate of growth varied substantially. It is important to recognize that gains are slower and more limited with an ABI than with a CI. Visual communication remains vital, the presenters note.
Visit the ASHA website for more information.
Source: ASHA