Interacoustics announced the launch of the AD528 in the US. The AD528 is an air, bone, and speech audiometer, and marks a new chapter in Interacoustics' rich history.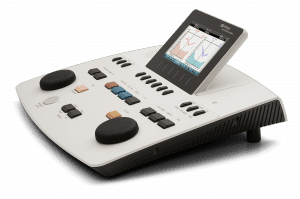 Time changes an audiometer
According to Interacoustics' announcement, the AD528's "quick startup is ideal for busy clinics, allowing for more patients to receive the treatment they require."
Designed for people
Interacoustics has endeavored to produce the AD528 with keen considerations to ergonomics, providing ideal operational comfort for the clinician.
According to Lillian B. Nielsen, audiologist and senior product manager at Interacoustics, "The AD528 provides the basics of what you need; ease of operation and a professional appearance with a large screen for an easy overview of test results."

The AD528 has a small footprint, low weight, and an optional carry bag making it ideal for traveling clinicians who provide outreach to patients in need of hearing services, the company says.
Read more about AD528 at: www.interacoustics.com/us/audiometry/diagnostic/ad528.
Source: Interacoustics
Images: Interacoustics