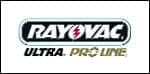 Are you looking at ways to increase patient loyalty and grow your practice? Hearing Aid Battery Clubs offer you the op­portunity to do both by making batteries part of your patient relationship.
Rayovac ProLine Advanced Battery Club programs can be executed in a variety of ways: Battery Club Booklet, Frequent Purchaser Punch Card, and Frequent Purchaser Battery Coupons:
1. Battery Club Booklets. These booklets, supplied free by Rayovac and customized for your office, can be used as either a pre-paid or a pay-as-you-go program. By offering the prepaid option, you are able to secure battery sales up front with your patient and assure a contact point for future purchases. A pay-as-you-go program gives your patient the option to enjoy the savings of a battery club while being financially flexible.
2. Frequent Purchaser Punch Cards. Punch Cards, also customized free of charge by Rayovac, offer a simple battery club option. Handled like many other loyalty programs, patients simply receive a punch on their card when they purchase hearing aid batteries from your office. After a pre-determined amount of purchases, your patient receives a free pack of hearing aid batteries.
3. Frequent Purchaser Battery Coupon Program. Using a Rayovac ProLine Advanced coupon program, patients receive coupons for battery pack purchases and receive a free pack of batteries once they have accrued a predetermined amount of coupons.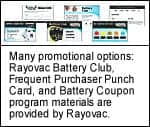 These programs offer you a variety of ways to stay in contact with your patients and reward them for purchasing hearing aid batteries from your office. By taking the time to discuss hearing aid batteries with your patients and enrolling them in a battery club program, you can establish that important ongoing link that will bring them back to your office for their next aid. What an easy way to get repeat hearing aid and battery purchases directed back to you! Call to learn more at (800) 356-7422 in the US and (800) 387-3529 in Canada.
For information, contact:
Rayovac CorpMadison, Wis, (800) 356-7422 www.rayovac.com