HearX Group, a "medical technology scale-up that develops smart digital hearing health solutions, with a vision of healthy hearing for everyone, everywhere," makes the hearScope, a digital otoscope for "affordable access to ear care" using a smartphone.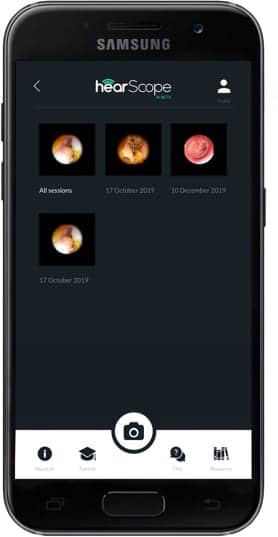 HearX announced it is releasing a free, beta version of the hearScope AI image classification feature in March. According to the company, the hearScope AI image classification feature helps "enable health practitioners to receive instantaneous classification results on images taken by the digital otoscope." The AI system is said to be trained on thousands of tympanic membrane images diagnosed by ENT specialists. This beta version classifies an image into either normal, wax obstruction, chronic perforation, or abnormal results along with a confidence rating.
"We are excited to see this world-first AI system advance ear care for all," said De Wet Swanepoel, lead inventor and co-founder at hearX Group.
This AI classification feature is in beta testing mode and will support clinicians in their diagnosis of ear conditions. The company advises that it is not currently intended as a standalone diagnostic tool, nor does it replace the diagnosis of a health practitioner. The ear condition categories are continually updated to support more ear disease categories for classification. Future updates of the beta version will expand the supported range or condition categories.

According to hearX, the AI image classification feature of hearScope is working towards classifying images in various pathology categories, such as acute otitis media (AOM), otitis media with effusion (OME), foreign bodies in the ear canal, wax obstructions, and chronic perforations with high accuracy. According to hearX, the software can classify normal tympanic membranes "with an accuracy of 99%, wax obstruction with 100% accuracy, and chronic perforations with a 98% accuracy." The abnormal classification currently indicates a high probability of a pathology present in the ear and suggests that the individual should opt for a professional examination of the tympanic membrane.
Source: hearX
Images: hearX