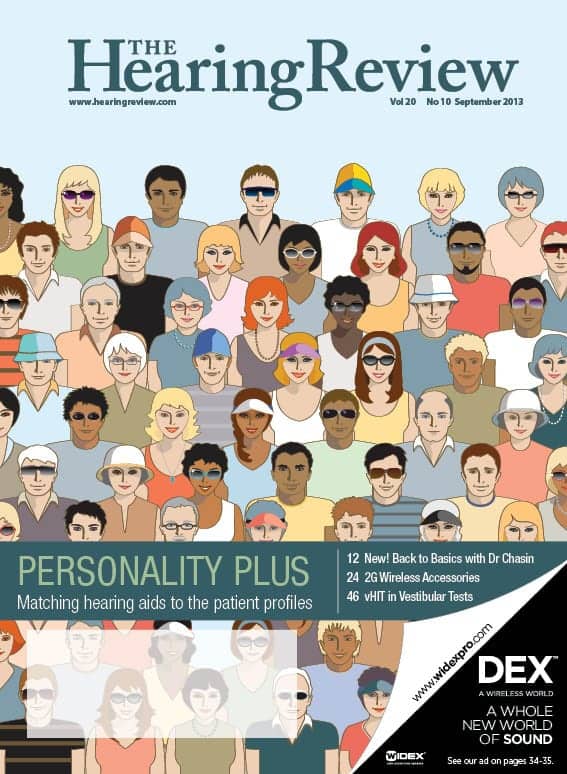 The September 2013 Hearing Review
Table of Contents
COVER STORY
A Broader Look at Performance and Personalization in Hearing Aid Fittings
By Julie Neel Weile, MA; Lia Santiago, AuD; Craig W. Newman, PhD; and
Sharon A. Sandridge, PhD
Hearing care professionals know that personalization—the selection of hearing aid response parameters for a particular individual and his/her listening needs—is critical for a successful fitting. But how are personalization and the user's preference and performance related?
FEATURES
Consumer and Dispenser Feedback Leads to Substantial Improvements in 2G Wireless Accessories
By Jennifer Groth, MA, and Torben Groth, BScEE
A second generation of wireless accessories is improving both the performance of the devices as well as the access to them by consumers.
Evaluation of a Binaural Speech in Wind Feature, Part 2: Validation and Real-life Benefit
By Matthias Latzel, PhD, and Jennifer Appleton, MSc
A new algorithm has been designed to enhance speech intelligibility in wind. Last month's Part 1 looked at performance in the laboratory; Part 2 looks at validation measures and real-life benefit of the system.
Video Head Impulse Testing (vHIT): VOR Analysis of High Frequency Vestibular Activity
By Michelle R. Petrak, PhD; Cammy Bahner, MS; and Douglas L. Beck, AuD
vHIT is quickly emerging as a useful, convenient, and important adjunct to the vestibular battery as it provides objective and realistic high frequency information to vestibular analytics.

DEPARTMENTS
Looking Back to 1983: President Reagan Gets Hearing Aids
By Karl E. Strom
On September 7, 1983, it was announced that President Ronald Reagan was using hearing aids. The announcement created a lot of excitement and placed the industry in the news. But did it increase sales?
Staff Standpoint
By Karl E. Strom
Has Costco Become the King of US Hearing Aid Retailing?
Blog Page: Gender Politics: "Women Jobs" and "Women Wages"
By Holly Hosford-Dunn, PhD
Back to Basics: The Limitations and Benefits of Flared Tubing
By Marshall Chasin, AuD
Events: Associations in Action
The 7th International Adult AR Conference Held in Florida
ADA Gears Up for Super-HEAR-oes Convention in Bonita Springs, Fla, November 7-10

Final Word: A Look Forward 10 Years to 2023
By Dennis Van Vliet, PhD