Every individual is unique, and hearing aid requirements are equally diverse. Factors such as lifestyle, leisure activities, and age must all be taken into account to ensure everybody has the right energy solution for their device. To show how this is done, power one is exhibiting at the 62nd EUHA International Congress of Hearing Aid Acousticians from October 18-20, 2017, the Germany-based hearing aid battery company announced. At Stand C03 in Hall 4a, power one is showcasing its complete range of batteries and announcing a number of new innovations. What's more, visitors to the stand who quote the phrase "Energie für alle Typen" / "Energy for everyone" will receive a small gift.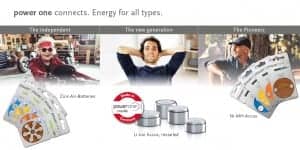 Performance expectations for hearing aid batteries are higher than ever before. The real cutting edge in technology comes in the form of rechargeable lithium-ion batteries integrated into the hearing aid. Power one's "Li-Ion accu" are designed to provide just this kind of solution, according to the company.
"Our own expectations have always been high, and this is why we have continued to develop and improve our processes and products. This is reflected in our 'power one inside' seal of approval," said Torsten Schmerer, general manager, retail at VARTA Microbattery GmbH. Visitors can find out more at the EUHA Congress.
Along with performance and quality, safety is a key priority for power one, a commitment that this year secured it DIN ISO 13485 certification.
"This confirms that our products fulfill strict requirements for medical devices from production and development right through to distribution," said Schmerer.
From rechargeable nickel-metal hydride and lithium-ion hearing aid batteries to zinc-air cells, power one has a "solution for every requirement," according to the company.
Source: power one
Images: power one