In October of 2018, Phonak introduced Marvel—reportedly "the world's first hearing aid" said to combine universal Bluetooth connectivity, rechargeability, and a suite of interactive smart apps designed to enhance the wearer experience. Today, Phonak Audéo Marvel is said to be "the world's first and only hearing aid" capable of direct audio streaming from Bluetooth-enabled devices in stereo sound, according to an announcement from Phonak.  It's also the first technology to seamlessly connect not only to iPhone but also to Android smartphones, which account for 86% of smartphones worldwide. 1
Phonak Marvel has received praise both inside and outside the hearing aid community. A recent survey2 revealed:
95% of hearing care professionals (HCPs) would recommend Marvel hearing aids to their peers;
92% stated the biggest advantage of Marvel is the combination of universal connectivity and rechargeability without compromising on sound quality,
90% of HCPs say Marvel hearing aids provide first-time wearers with exceptional sound quality from the first fit.
Hearing aid wearers also report that they enjoy top-rated streamed sound quality3 along with the ability to take hands-free phone calls. Marvel is also said to "recognize and automatically adapt" to precisely match more listening situations than even before, thanks to AutoSense OS 3.04. This reportedly provides a "seamless listening experience" for the wearer. In addition, the myPhonak app is designed to allow users to have their hearing aids adjusted in real-time, in any situation via videocall by the hearing care professional. Phonak Audéo Marvel was named the best hearing aid of 2019, the best mobile medical device at CES, and is both a 2019 CES Innovations Award and Edison Awards recipient.
"Thousands of hearing care professionals around the world have directly experienced the benefit of exceptional sound quality from the first fit, better speech understanding in noise, and the top-rated streamed sound quality of Phonak Marvel," said Martin Grieder, group vice president, marketing. "This multifunctional hearing aid truly makes a difference in real world situations and has a significant impact on people's overall wellbeing."
Telecoil (T-coil) models expand Phonak Marvel's connectivity and increases accessibility
Phonak is expanding upon Marvel's wide-ranging connectivity solutions with the introduction of Audéo M-312T and Audéo M-13T. These models maintain the same sound quality and universal Bluetooth connectivity of the original Audéo M models with the added benefits provided by a T-coil. According to the company, they have produced the new T-coil models with only a 2mm increase in housing size. In fact, Audéo M-13T is virtually the same size as the original Audéo M-312 and has an improved battery life that allows wearers to enjoy what Phonak says is a full week of hearing, including streaming.
The new T-coil models increase wearer accessibility by providing direct connection to induction-loop systems. In recent years, the use of induction-loop systems has been expanded beyond its traditional use in theatres, houses of worship, and large auditoriums. Today, many communication environments are equipped for hearing aid wearers to connect via T-coil.
"Marvel has already become a must-have product for many hearing care professionals," added Thomas Lang, senior vice president for Phonak. "Now, having Marvel with T-coil brings even more benefits to more patients, particularly in areas where hearing loops are common."
In the March 2019 edition of The Hearing Review, Douglas Beck spoke with Juliëtte Sterkens, AuD, a National Hearing Loop Advocate for the Hearing Loss Association of America (HLAA). Sterkens discusses the benefits of telecoils and how they work with hearing loops to help decrease the cognitive load those with hearing loss may experience.
New SlimTip Titanium improves durability and fit rate
Phonak also introduces its first ever SlimTip Titanium for all Marvel devices. The new SlimTip Titanium is reportedly stronger than industry standard acrylic, is hypoallergenic, and comfortable to wear. The strength of titanium allows Phonak to design and print Titanium SlimTips as thin as 0.2mm.
Additionally, the new SlimTip Titanium has been designed to increase the fit rate for smaller ears. An internal study5 conducted by Phonak has shown a 50% increase in fit rate for very small ears compared to traditional acrylic SlimTips. Because the titanium shells are half as thick as the acrylic, the new SlimTip Titanium can be made smaller for a secure, reliable fit. Moreover, hearing care professionals can now offer their patients a broader choice of solutions.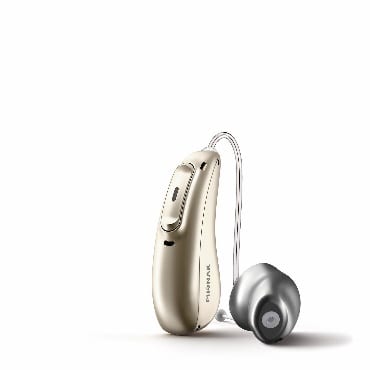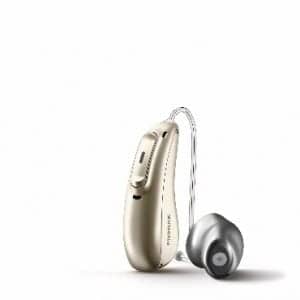 These additions to the Marvel platform continue to provide "a love-at-first-sound" experience to even more consumers.
The Audéo M-312T, Audéo M-13T, and new Titanium SlimTips will be available as of February 26, 2019. All devices will be fully RogerDirect compatible, which is expected to be available later this fall.
References
eMarketer. Global mobile landscape 2016: A country-by-country look at mobile phone and smartphone usage. https://www.emarketer.com/Report/Global-Mobile-Landscape-2016-Country-by-Country-Look-Mobile-Phone-Smartphone-Usage/2001859. Published November 16, 2016.

Phonak. Marvel post-launch research B2B, market survey #1241. Survey conducted in Canada, Germany, USA, January 2019.

Phonak. Legarth SV, Latzel M, Rodrigues T. Media streaming: The sound quality preferred by hearing aid users. Phonak Field Study News, https://www.phonakpro.com/content/dam/phonakpro/gc_hq/en/resources/evidence/field_studies/documents/fsn_btb_phonak_media_streaming_the_sound_quality_hearing_aid_wearers_prefer.pdf. Published July 2018.

Phonak. Rodrigues T, Liebe S. AutoSense OS TM 3.0.: The new & enhanced automatic operating system. https://www.phonakpro.com/content/dam/phonakpro/gc_hq/en/resources/evidence/white_paper/documents/phonak_insight_btb_audeo_marvel_autosense_os_3.0.pdf. Published July 2018.

Phonak Internal Study 2018, SDS4.0 relative fit-rate study. February 2018.
Source: Phonak
Images: Phonak