The availability of over-the-counter (OTC) hearing aids has caused changes in the hearing health landscape, including wider awareness and acceptance of the need for hearing instruments.
By Bennett Griffin
October 17, 2023 marks the one-year anniversary of the over-the-counter (OTC) hearing aid category's launch into the hearing health market, and in just this one year, the landscape of hearing health has undergone a significant transformation. This development initiated by the Food and Drug Administration's landmark ruling to allow OTC hearing aids to be sold to consumers has unlocked new possibilities, offering increased access and affordability to those with hearing loss.
Along with access and affordability, the hearing aid industry has evolved tremendously over the past several years, with technological and data-driven advancements and consumer-friendly features creating a positive impact on millions of lives.
The OTC Boost: Growing Access, Awareness—and Sales
Data trends in the hearing aid market reveal a remarkable shift in consumer behavior. Younger individuals are starting their hearing health journeys earlier, demonstrating a proactive approach to maintaining their hearing abilities. With technological advances now available, like Bluetooth capability, as well as discreet designs, hearing aids are gaining a "hipper reputation" as OTC lifestyle products and attracting a younger crowd—people in their 30s and 40s.(1) Moreover, caretakers are stepping in to purchase hearing aids for their parents and spouses now that hearing tests are not mandatory for OTC purchases.
The awareness boost brought about by the entrance of OTC into the hearing aid category has resulted in increased attention by consumers about their hearing health, which also appears to have brought about a surge in hearing aid purchases overall. According to data generated by the Hearing Industries Association, 2023 first-quarter hearing aid sales saw a better-than-anticipated increase in sales, with a 9% increase over the same period last year. Prescription hearing aids made up 8% of the increase, while OTC made up 1%.(2)
The market has also witnessed purchasing across a wide variety of price points and from a broad spectrum of retailers who are testing for OTC devices, from pharmacies to electronics stores to grocery stores. With retailers across different distribution categories offering OTC hearing aids, consumers are seeing and becoming more familiar with the hearing aid industry and exploring their own hearing health. The positive result: with increased awareness and accessibility, more people are being served with hearing solutions than ever before.
A Key Factor: Affordability
One of the most significant breakthroughs of OTC hearing aids is their affordability. With options starting at a few hundred dollars and capping at just over $1,400, these devices are typically more affordable than traditional hearing aids. It is important to make the distinction and note that OTC hearing aids are not mere versions of personal sound amplification products (PSAPs). These modern devices are enriched with features like Bluetooth streaming, rechargeability, discreet design, and high-definition natural sound, making them on par with traditional hearing aids. Manufacturers, including Lucid Hearing, have embraced the opportunity to offer OTC hearing aids, and in fact, Lucid Hearing began preparing for the possibility of the category launch years ago. That preparation included a robust study of 14 years' worth of audiograms that informed the development of the company's OTC product line.
"We wanted to ensure we were ready and able to offer consumers OTC devices that met our standards of quality at affordable prices," says Tim Schnell, Lucid Hearing's founder and CEO. "Our research team worked in conjunction with the University of Texas at Dallas' audiology program to develop pre-set programs that meet the vast majority of consumers' mild to moderate hearing loss needs."
Further reading: Lucid Hearing Launches New OTC Hearing Aid
Still Room for Improvement—and Opportunities
While the OTC hearing aid market has made impressive strides, there are still challenges to address. Some customers with severe hearing loss expect OTC devices to be a one-size-fits-all solution, leading to higher-than-expected return rates. More education is needed to help consumers understand what "mild-to-moderate" hearing loss is compared to severe hearing loss, based on CDC guidelines. To help tackle this issue, there is ongoing effort to educate consumers about the appropriate use of OTC hearing aids by retailers, who are focusing on improved team training, selection assistance, and follow-up support. Additionally, manufacturers are offering education on their websites and through social media channels to help provide the necessary education.
Retailers are also merchandising OTC products in a more interactive manner, featuring charts, QR codes, and other tools to guide customers to support more informed decision-making. Furthermore, some companies, including Lucid Hearing, continue to promote and offer free hearing tests to accurately determine the level of hearing loss and also emphasize the importance and advantages of professional care in cases where the loss is more severe. While the OTC category has certainly increased awareness of hearing loss and offers a path to accessible treatment, there is no replacing the professional care that audiologists and hearing instrument specialists can provide for comprehensive in-person education and assistance.
Advancements Helping to Eliminate Stigma
OTC hearing aids are continually evolving, offering a range of new features and benefits. Lucid Hearing has the benefit of having hearing centers located across the country, the majority of them in Sam's Clubs. These centers offer a robust data pipeline, and artificial intelligence and machine learning glean actionable insights from the data and inform and support product refinements, future development, and even opportunities to improve the dispensing process. Lucid Hearing's OTC hearing aids offer customers the ability to upgrade its premium OTC devices to prescription devices. Because it operates on a vertically integrated model, from research and development through to its customer-facing hearing centers, there was intentional development of a technology stack that allows for this personalization and upgrade option.
Importantly, sleek designs, app control, and functions like Bluetooth capabilities have also played a crucial role in reducing the stigma previously associated with wearing hearing aids, making them more appealing to a wider—and younger—audience.
According to some audiologists as reported earlier this year by the Wall Street Journal (WSJ), "younger Americans are seeking solutions far earlier than older generations did."(3) Increased accessibility and awareness about hearing health no doubt is fueling the drive in younger generations to get tested and get help if needed. In-store, in-aisle assessments, such as otoacoustic emission screeners—devices used to rapidly identify hearing deficiencies—as well as online assessments, have simplified the process of gauging hearing loss levels. One audiologist quoted in the WSJ article remarks, "Members of older generations might feel hearing aids carry stigma, but young Americans routinely use technology to better their health. They can view the new hearing aids as complements to their fitness trackers, their smart scales, and other gadgets—or even as replacements."(3)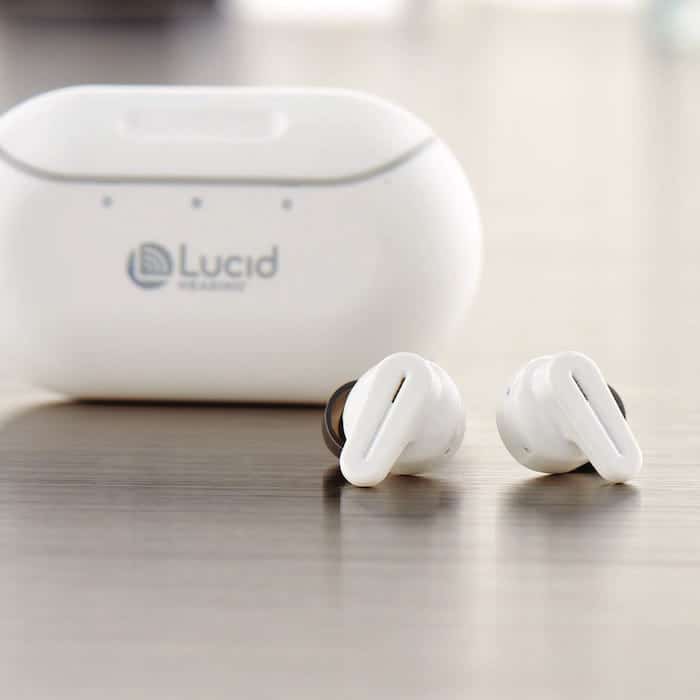 The availability and awareness of over-the-counter hearing aids, such as Lucid Hearing's Tala, appear to have led to an increase in hearing aid sales overall, including prescription hearing aids. Photo: Lucid Hearing
The opportunity to capture this younger demographic is not lost on Lucid Hearing, who earlier this year released Tala, the latest addition to the company's premium OTC product line. In addition to a discreet design and Bluetooth compatible wireless streaming, Tala's features include the company's patented LucidShape app technology for real-time listening personalization, a rechargeable design, and importantly, a proprietary Precision Directional Listening (PDL) System which enhances the user's ability to hear speech and other desired sounds while minimizing background noise. PDL refines sounds originating from the direction the user is facing while suppressing unwanted noise from other directions, greatly enhancing speech intelligibility. Tala is designed to check all the boxes for a younger customer seeking an option to not only enhance their hearing but also complement all facets of their lifestyle.
An Industry Committed to Ongoing Education and Progress
Despite some skepticism from certain quarters, studies have begun and are revealing the effectiveness of OTC hearing aids.(4) No doubt more studies will come out and will offer important insights into the continued development of OTC products.
With the advent of the FDA ruling in 2022, OTC hearing devices have ushered in a new era of hearing health, one that empowers individuals to take control of their hearing journey. Access, affordability, and advancements have combined to make hearing aids available to a broader population, bringing clear hearing to many more who may have otherwise never sought help. As technology, education, and understanding continue to evolve, there is optimism and commitment from all those across the spectrum of the hearing aid industry to continue to transform lives through improved hearing.
Featured image: Consumers have been able to purchase over-the-counter hearing aids at hearing centers in big-box stores and at other retail locations for a year now, contributing to changing hearing care trends. Photo: Lucid Hearing
About the Author: Bennett Griffin is executive vice president of research & development at Lucid Hearing. He guides Lucid Hearing through the design and development of its products and has been a prominent figure in helping Lucid Hearing navigate the over-the-counter hearing aid launch as well as develop a line of quality prescription hearing devices and accessories.
References
1. Reed, Tina. Hearing aids gain hipper reputation as "lifestyle" products after going OTC. Axios. 2023. Available at: https://www.axios.com/2023/05/19/otc-hearing-aids-lifestyle
2. Strom K. Hearing aid sales vault upward by 9% in first quarter of 2023; OTC comprises 1% of sales for largest manufacturers. Hearing Tracker. 2023. Available at: https://www.hearingtracker.com/pro-news/hearing-aid-sales-vault-upward-by-9-in-first-quarter-of-2023-otc-hearing-aids-make-1-of-sales
3. Baird S. Wait, are hearing aids cool now? Ask millennials. Wall Street Journal. 2023. Available at: https://www.wsj.com/articles/wait-are-hearing-aids-cool-now-ask-millennials-629e7e55?st=mv7jj8jco2nm z2u&reflink=desktopwebshare_permalink
4. De Sousa K, Manchaiah V, Moore DR. Effectiveness of an Over-the-Counter self-fitting hearing aid compared with an audiologist-fitted hearing aid. JAMA Otolaryngology Head Neck Surg. 2023;149(6):522-530.