By Karl Strom, Editor-in-Chief
Launched in August, Audiology Systems Inc (ASI) was incorporated as a new, full-service national distributor for GN Otometrics and other companies in the special instruments field. ASI is a partnership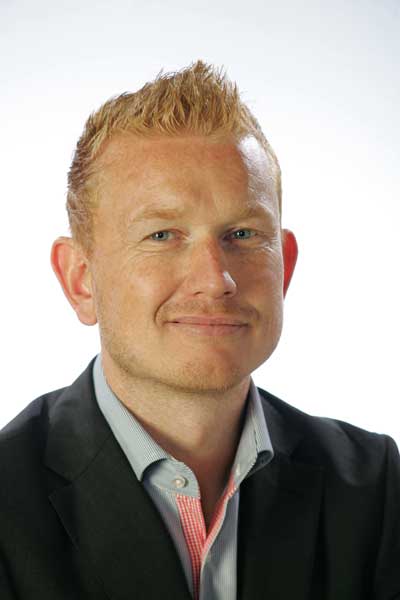 Audiology Systems Inc general manager Michel Jurgens
of industry professionals, audiologists, and local audiology and vestibular instrument experts now spanning more than half of the United States. The new company says that its goal is to "take customer care to a new level," and ASI is currently the exclusive distributor for Otometrics' MADSEN, AURICAL, and ICS product lines, as well as a new distributor for Intelligent Hearing Systems and Noise Barriers, a manufacturer of soundbooths.
GN Otometrics, a creator and shareholder in ASI, reports that this new approach was developed in response to industry consolidation. However, their overall goal is to elevate the level of customer care. Uffe Bjerg, vice president of GN Otometrics North America and chair of ASI, said in a press statement that the ultimate goal is to improve the customers' overall experience by implementing a new business model dedicated to three core principles:
Professionalism;
Consultation; and
Accessibility.
By focusing on fewer product lines, Bjerg says the sales and service representatives of ASI are now able to become true experts on these products and their corresponding technologies, thereby providing a higher level of customer care.
Also in August, Michel Jurgens was appointed as the new general manager of ASI. Jurgens had previously served in various positions within product management, sales, and marketing at GN Otometrics' headquarters in Taastrup, Denmark. He holds a master's degree in marketing and economics from the Copenhagen Business School. HR recently took the opportunity to interview Jurgens and get his viewpoints on the market and ASI.
HR: Can you provide your perspective on some of the recent changes in the special instruments market?
Jurgens: The US special instruments market once consisted of a network of regional hearing diagnostic and vestibular equipment distributors. Our industry used this network of distributors for decades. So, traditionally, when an audiology, dispensing, or vestibular professional needed service or new products, they'd contacted their local distributor. In many if not most cases, these distributors were family-owned, independent companies that represented nearly all brands.
However, starting in April 2011 and culminating in the first half of 2012, this traditional "one-stop shop" distribution model changed dramatically. Over the last 2 years, consolidation has led to the acquisition of many of these family-owned businesses, which in turn has affected many professionals' local distributors. Many GN Otometrics distributors ended up being acquired by a direct competitor, William Demant Holding, which owns brands such as Interacoustics, Maico, and GSI. While I want to emphasize that we are happy for all our friends who have sold their businesses and secured their future, Otometrics also believes it is important to have its solutions represented through a distribution channel that is not influenced by a competitor.
Obviously, a distribution system that has become largely controlled by a competitor is not a favorable situation, so this quickly became a concern. Having said that, Otometrics continued selling its solutions and taking care of customers in this changing marketplace. It also utilized this change to form even closer relationships to existing independent distributors, as well as forming partnerships with some new ones. And finally we [Otometrics] wanted to rethink our approach to equipment distribution in regions where we had few good alternatives—and this was the impetus behind the formation of ASI.
HR: Beyond consolidation, what other factors were considered when forming ASI?
Jurgens: Essentially, we've had a fair amount of time to consider the situation, and we took this time to analyze our entire approach to the US special instruments market. We asked ourselves some hard questions like, "What's the best way we can serve our customers? How do we want to change our approach to the market? What's the best way we can add value to our products and increase customer care?" In essence, the situation—while not exactly what we'd hoped for—did provide us with a unique opportunity to redefine our business and find new ways to move our customer care to the next level.
And, to be honest, when I was at Otometrics, we never wholeheartedly felt that our customers were getting "the best" service from our company. That's because our former distributors could never really fully focus on our product line; in fairness, they also had to represent the other manufacturers that they were distributors for.
This also had another impact from an end-user perspective. Professionals had less access to in-depth information when looking for new vestibular and audiology equipment.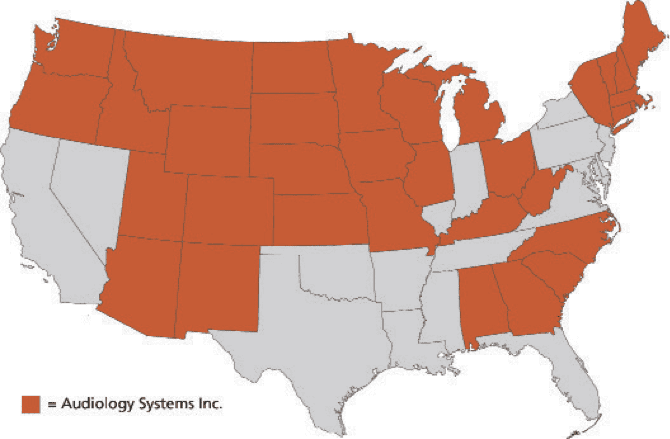 Audiology Systems Inc is currently operating in the audiological and vestibular communities throughout most of the United States, and the company is continuing to hire new sales and service professionals.
HR: So how is ASI changing the market?
Jurgens: Audiology Systems offers a choice and is the first national distributor (currently operating in more than half of the United States) for instrumentation and services in the areas of audiological equipment and vestibular testing. I think one of the most important aspects of ASI is that it isn't a company owned by GN Otometrics; instead, it is owned by several shareholders with one of the minority shareholders being Otometrics. Although Otometrics is a significant partner and is proud to admit that, the rest of the shareholders are industry insiders and professionals: those individuals who have "bought into" the ASI concept and believe in taking customer service in the vestibular and hearing testing segment to the next level.
In short, we think we have a new, exciting approach to the market. Those local distributors who have joined ASI have a direct stake in the company; they're the owners. Therefore, they have a lot of motivation for really taking customer care to the next level. We have become partners in the truest sense of the word.
In ASI we are combining some of the core knowledge, professionalism, and strengths from Otometrics with the local industry and know-how. Together, we will be able to offer a degree of professionalism locally that benefits all customers.
Ultimately, this partnership between ASI and these local distributors will evolve from what some people now see as small businesses into a much larger company that serves a wider audience—with a major focus on innovation and individualized customer care.
However, in order to make that evolution, you need to have the three cornerstones in place that Otometrics' Uffe Bjerg mentioned: you must be professional, you must be consultative, and you must be accessible. And, to accomplish this in an industry that is consolidating, you cannot be small.
Scale means a lot. We believe that having a large national entity like ASI that approaches customers with uniformity, modern tools, accessibility—including the ability to have remote installations, training, and troubleshooting—a high level of professionalism using a consultative approach, and being focused on fewer product lines with the latest technology is vital for delivering a new level of customer care in this market. This will also impact the service delivery model, where the scale will enable us to deliver better calibration services and other key service offerings to professionals. I think that if you don't have scale and size, you will struggle to compete in this environment.
HR: What other benefits do you think hearing and vestibular professionals will see from ASI, as well as from the changing market?
Jurgens: With the launch of ASI, we are introducing a new national customer care model to the audiology and vestibular communities. Based on the core principles of being professional, consultative, and accessible, we are "designing" a company with focus on rethinking the approach to our market and delivering superior customer care.
Essentially, this means utilizing the latest technologies in our effort to be accessible, and providing innovative solutions and professional consultation that helps our customers make the right decisions for their businesses. And, finally, it means being more focused on fewer product lines and becoming true experts in these products.
Becoming experts and having a focus on fewer products is the key to delivering better customer care. ASI mainly represents two special equipment product lines. One of them will be GN Otometrics' ICS, AURICAL, and MADSEN. ASI has also formed a strategic partnership with Intelligent Hearing Systems (IHS) in Florida. Focusing on two leading manufacturers like GNO and IHS allows ASI to become a full-service provider with options for the customer—and at the same time to be consultative when we approach our customers. These products serve a complete range of needs within the areas of hearing and balance assessment, hearing aid fitting, and hearing screening, including newborn hearing screening.
This also represents a move toward a more traditional medical sales model. One of the benefits of this is that the representatives are better able to explain important product differences, allowing the customer to see which model makes the most sense for their practice. This will also make for a more competitive arena in the special equipment segment—and that will definitely benefit hearing and vestibular care professionals.
Ultimately, I don't think this would be a very interesting story if things in the special instruments market just stayed the same. However, we believe ASI is a game-changer. We want change because we want to take customer care to a new level. The essential culture in our company is to provide better customer care, and to build ASI into a very unique resource for the hearing and vestibular care field. —KES