With the wealth of information hearing care professionals have to share with their patients about the myriad products and services offered by manufacturers, The Hearing Review has compiled some of the product brochures, catalogues, and other technical literature available to guide professionals and patients through the experience of finding the right products for the patient's individual needs. Descriptions presented here were supplied by the participating manufacturers.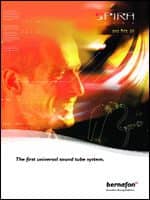 Bernafon LLC
Bernafon LLC, Somerset, NJ, presents a promotional brochure for its SPIRA flex fitting kit. The smart adapter system offers the possibility to fit every Bernafon BTE hearing system with one fitting kit and dramatically reduces your pile of fitting boxes. The unique modular system makes SPIRA flex the best choice for easy and successful thin tube fittings. In addition, the upgrade possibilities in SPIRA flex ensure your client's satisfaction in the future.
(888) 941-4203; www.bernafon.com.
---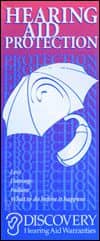 Discovery Hearing Aid Warranties
Discovery Hearing Aid Warranties, Mobile, Ala, provides loss, damage, and/or component failure protection for all makes and models of hearing aids, including cochlear implants and bone-anchored processors. A unique compensation plan generates continuous extra income for dispensers. Discovery Hearing Aid Repair is a rapid response, full-service, all-make repair laboratory.
(800) 525-7936; www.discovear.com.
---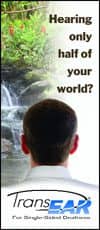 Ear Technology Corp
Ear Technology Corp, Johnson City, Tenn, offers patient brochures introducing TransEar®. As many as 50,000 people per year in the United States alone experience the onset of single-sided deafness. Most do nothing about it. TransEar is a newly patented bone conduction hearing instrument that offers your patients an effective and affordable remedy to single-sided deafness without occluding the good ear, without a bulky headband, and without surgery.
(888) 382-9327; www.transear.com.
---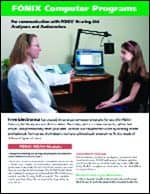 Frye Electronics
Frye Electronics, Tigard, Ore, offers a 4-color brochure describing our three computer programs: the FONIX NOAH Module; WinCHAP, our data base program; and Press & Go, a computer program which allows you to keep a simple record of the measurement made on a client's hearing aid and FM system to be compared to later measurements. FONIX instruments offer the best of both worlds: stand-alone and computer connected.
(800) 547-8209; www.frye.com.
---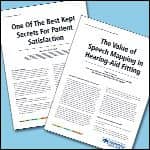 GN Otometrics
GN Otometrics, Schaumburg, Ill, presents two new White Papers on Speech Mapping written by Kenneth Smith, PhD, Kansas City, Mo, and Brian Moore, PhD, University of Cambridge. Read about patient involvement as a means of more accurate fittings, and learn how to move from a subjective to an objective fitting approach using the AURICAL Visible Speech. Contact us for a copy of the White Papers or more information on the system itself.
(800) 289-2150; www.gnotometrics.com.
---
GN ReSound
GN ReSound's groundbreaking open fitting technology launched a whole new category, leading the way to natural, comfortable, powerful Open fittings for an emerging market of younger people. Now we're taking that ReSoundAIR category to the next level. ReSound Pulse™ is the only digital hearing instrument to offer the plug 'n' play convenience of the SuperTune™ intelligent recharger. To learn more about ReSound Pulse call your GN ReSound sales representative to receive a free product brochure of ReSound Pulse.
(800) 248-4327; www.gnresound.com.
---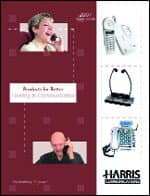 Harris Communications
Harris Communications, Eden Prairie, Minn, a leading distributor of products for deaf and hard-of-hearing people, is pleased to announce their new 2007 Equipment Catalog. This 80-page catalog is a good reference for all of the latest assistive technology and includes products from Clarity, Sonic Alert, Williams Sound, Sennheiser, and Ultratec. Catalogs are free, and multiple copies are available upon request.
(800) 825-6758; www.harriscomm.com.
---
Hearing Components
Hearing Components, Oakdale, Minn, focuses on helping people listen safely in noise and hear better through its efforts in the field of ear canal research and polymer chemistry. The company manufacturers and markets Comply™ Snap/Soft Tips, Comply Canal Tips, Comply Soft Wraps, Ad.hear™/Ad.hear Plus Cerumen Guards, and our Comply Noise Reduction series of products.
(800) 872-8986; www.hearingcomponents.com.
---
The HELPcard
The HELPcard, Springdale, Ark, introduces a new patient brochure to help your clients see the benefits of financing with no interest or low interest payments. The brochure reinforces how attainable it is to hear well when easy to budget payments are available. As always, The HELPcard has no enrollment fee, instant approvals, and an account manager trained to answer all of your financing questions.
(800) 945-4357, ext 316; www.helpcard.com.
---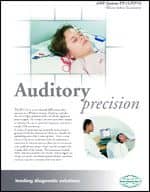 Interacoustics
This new Interacoustics Eclipse brochure shows a combined, portable platform for clinical ABR and OAE testing. The Eclipse connects directly to a computer via USB cable and is controlled with software that provides automatic testing and tools like normative data, wave form reproducibility, dual wave collection, and digital filtering.
(800) 947-6334; www.interacoustics-us.com.
---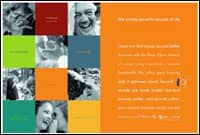 Interton
Interton, Plymouth, Minn, understands that hearing aids are meant to significantly enhance a person's life, so they designed a brochure and poster that helps patients feel an emotional connection with their purchase. Interton's Bionic Open literature celebrates the sounds of life while showcasing the product's special features, which produce natural sound by enhancing patients' natural hearing ability. Look for this theme during the launch of Shape, a new RITE product by Interton. Simple, powerful solutions.
(800) 247-4741; www.interton-usa.com.
---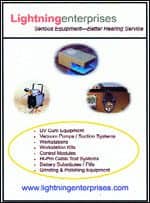 Lightning Enterprises
Lightning Enterprises, Limington, Me, presents their catalog of hearing aid repair equipment for the professional. Products include a full line of UV cure equipment, vacuum pumps for hearing aid cleaning, battery drain meters, grinding and buffing equipment, complete workstations, and much more. The catalog is also available on CD.
(877) 546-1797; www.lightningenterprises.com.
---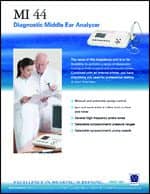 Maico Diagnostics
Maico Diagnostics, Eden Prairie, Minn, offers a product guide for the new MI44 middle ear analyzer. Learn more about the value of this impedance unit and its flexibility to perform a range of diagnostic testing in both manual and automatic modes. Combined with selectable tympanometric pressure ranges, pump speeds, high frequency probe tones, and an internal printer, you have everything you need for professional testing at your fingertips.
(888) 941-4201; www.maico-diagnostics.com.
---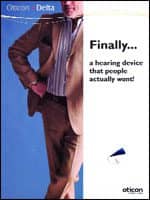 Oticon
Oticon Inc, Somerset, NJ, offers a brochure for the Delta hearing device. Delta is a stylish hearing device, designed to be as discreet as possible and still offer the latest in hearing technology. Delta offers you a chance to set your practice apart from the competition and drive in new business with a wide range of marketing pieces and proven advertising campaigns to choose from.
(800) 526-3921: www.oticonus.com.
---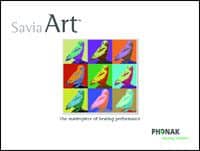 Phonak Hearing Systems
Phonak, Warrenville, Ill, presents the Savia Art comprehensive product brochure. This brochure offers detailed information about Savia Art—the new masterpiece of hearing performance from Phonak. This guide explains the solutions-based design of Savia Art, describing how the unique multi-based automatic function of Savia Art provides unsurpassed performance in every listening environment. Also outlined are the benefits of new features like SoundRelax, NoWhistle technology, and SelfLearning.
(800) 777-7333; www.phonak.com.
---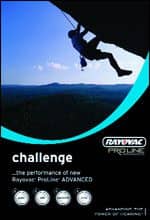 Rayovac
Rayovac ProLine has determined that there are a variety of factors hearing care professionals consider when buying batteries. The single most significant factor is product performance and consistency—the importance of knowing that the battery being placed in the patient's device will deliver the performance they have come to expect. This brochure highlights the important features that Rayovac ProLine offers.
(800) 356-7422; www.thepowerofhearing.com, www.spectrumbrands.com.
---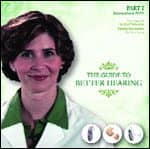 Rexton
Rexton, Plymouth, Minn, is proud to introduce the two-part Guide to Better Hearing DVD. This exciting DVD series provides valuable information in a fresh, electronic format. Part I focuses on important pre-purchase issues. Topics include how we hear, hearing loss, how hearing instruments function, and much more! Following instrument fitting, send your customers home with Part II, a helpful guide to instrument use and care, adjustment strategies, and communication tips.
(800) 876-1141; www.rexton-online.com.
---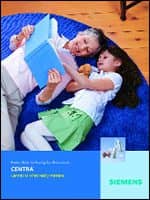 Siemens Hearing Instruments
Siemens Hearing Instruments, Piscataway, NJ, offers the CENTRA™ Product Guide for hearing care professionals. Filled with detailed information regarding Siemens latest family of hearing products, this full-color guide explains CENTRA's wearer-focused engineering. Breakthrough technologies available with all CENTRA instruments include Soundsmoothing™, DataLearning™, and e2e wireless™. CENTRA's extensive fitting flexibility provides unparalleled fitting ease and consumer usability.
(800) 766-4500; www.usa.siemens.com/hearing.
---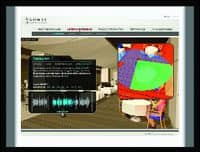 SONIC innovations
SONIC innovations, Salt Lake City, provides a comprehensive, interactive CD-ROM hearing professionals may use to educate customers about hearing loss and how hearing technology can improve speech understanding in noise. Features include fully interactive tutorials, sound demonstrations showcasing benefits of technology, personalized audiograms, model selection, print feature, and customer testimonial videos. Please contact our Customer Service Department for a free copy of our Interactive Sound Demo.
(888) 423-7843; www.sonic.com.
---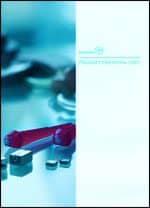 Sonion
Sonion, Minnetonka, Minn, is pleased to present to you our new, updated Product Overview 2007, which provides a quick guide to the product range of Sonion Hearing Instrument Components. The Product Overview highlights features and dimensions of the products and supplements our data sheets, which offer you further details. Contact the US office for a free sample of the Product Overview or an annual update.
(952) 543-8300; www.sonion.com.
---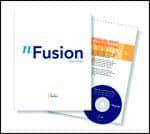 Starkey Laboratories
Learn about Starkey Laboratories new nFusion™ Technology, a breakthrough utilizing cutting-edge nanoscience to create an entirely original and superior hearing system. Only nFusion could have enabled the landmark benefits provided by Destiny™ instruments and Inspire™ OS fitting software. Contact us for your copy of our nFusion "hero" brochure and nFusion world premier DVD and discover how Starkey became the industry's technology leader, raising hearing care to all new heights with the most in-demand product of the year.
(800) 328-8602; www.starkey.com.
---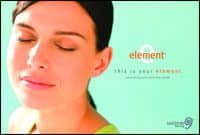 Unitron Hearing
Unitron Hearing, Plymouth, Minn, introduces the new Element™ Counseling and Selection Guide. This guide is an educational counseling tool that you can use with your patients to discuss:
• How you hear.
• Which style is right for you.
• Unitron Hearing products—overviews Indigo™ and Element series, with straightforward explanation of patient benefits.
• Innovative technologies—explains the technologies available within the Element family, including antiShock™.
• Comfort technologies—reviews the comfort features available on all Element products.
(800) 888-8882; www.unitronhearing.com.
---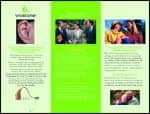 Vivatone Hearing System
Vivatone Hearing System, Shelton, Conn, offers a consumer brochure featuring The Vivatone™ Entré™ line the next generation of Receiver in The Ear technology. Five models are available featuring an automatic directional, multi-microphone system that switches automatically between omni and fixed directional patterns; a dynamic layered noise reduction system to provide exceptional understanding of speech in any situation; adaptive automatic feedback cancellation to ensure feedback elimination without gain reduction; and an advanced digital processor with enhanced fitting range.
(203)-225-2300; www.vivatone.com
---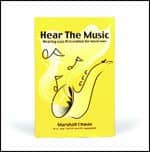 Westone Laboratories Inc
Hear the Music, by audiologist Marshall Chasin, is an easy-to-read handout that puts the complexities of hearing loss into everyday terminology. Covering the many factors that can affect a musician's hearing as well as strategies that can be used to prevent hearing loss, the book is perfect for audiologists interested in the music field, musicians, and music lovers. Chasin, MSc, Reg. CASLPO, Aud(C), is director of auditory research at the Musicians' Clinics of Canada in Toronto, Ontario.
(800) 525-5071; www.westone.com.
---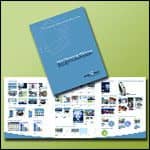 Widex

Widex, Long Island City, NY, offers a Marketing Materials Flyer that features several pages of Inteo marketing pieces. These marketing pieces include consumer brochures, flyers, postcards, invitations, posters, displays, an advertising CD, a consumer DVD, and more.

(800) 221-0188; www.widexPro.com.