Sophono Inc, the Boulder, Colo-based manufacturer of abutment-free, implantable, bone-conduction hearing systems, announced that Peter Ruppersberg, MD (pictured), is the company's new CEO. James Kasic, the company's founding CEO, has stepped down from his executive position and will continue to support the company in a consulting role.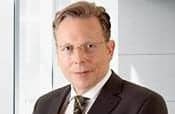 According to the company, Dr Ruppersberg is a senior executive with more than 15 years of international experience in technology product strategy, medical marketing, business development, and finance. He was most recently CEO of the Valtronic Group, a Geneva, Switzerland-based firm that specializes in "mechatronics" manufacturing solutions with a focus on medical device manufacturing.
Previously, Ruppersberg was active in venture capital and private equity. At the University of Tuebingen (Tuebingen, Germany), he served as the chairman of physiology and director of the Hearing Research Center. Ruppersberg began his career as an assistant professor at the Max Planck Institute for Medical Research. He earned his MD degree from the University of Ulm in Germany, and completed a Habilitation in biophysics and physiology.
"I am pleased to have the opportunity to lead Sophono, and look forward to realizing the company's great potential," said Ruppersberg in a press statement. "Sophono will remain focused on delivering state-of-the-art implantable hearing systems, and will work to continuously improve its product quality and customer service. In addition to Sophono's existing presence in the United States and EMEA (Europe, the Middle East, and Africa), we will seek to enter Asia as part of the expansion of our international organization that will best serve the needs of our customers."
"It has been a privilege to found and build Sophono, and I am very proud of what has been accomplished," stated Kasic. "I believe Peter is a strong leader and an excellent choice to succeed me as CEO. I have great confidence in his abilities and look forward to working with him in a smooth transition over the next several months."
Sophono President and Chairman Markus Haller, PhD, stated: "On behalf of Sophono's board of directors and senior management, I would like to thank Jim for his significant contributions during the entrepreneurial phase of Sophono's growth. Under Jim's leadership, the company obtained marketing clearance for the Sophono Alpha System in the United States and Europe, and has become a well-known international player in the market. As a result of Jim's efforts, Sophono has successfully served more than 2,000 patients who have had their hearing restored without the clinical and practical complications of abutment-based devices. I look forward to now working with Peter for the continued growth and maturity of the company."
Source: Sophono Inc