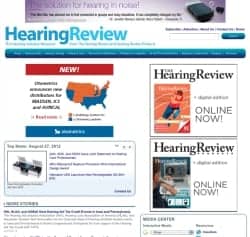 TOP NEWS and HEADLINES
Six Hearing Aid Manufacturers Form Hearing Research Consortium
Patients Enrolled for Auris Medical's Phase II Trial of Tinnitus Treatment
Zebra Fish May Help Discover Cause of Fraser Syndrome Hearing Loss
AAA, ADA, and ASHA Issue Joint Statement on Dispensing Model Changes
US Task Force Finds Insufficient Evidence for Benefits of Adult Hearing Loss Screening in Primary Care Settings
Attending Concert: 72% of Teenagers Experienced Reduced Hearing Ability
Etymotic Launches MusicPRO Electronic Musicians Earplugs
Report Says Hearing Aid Market Potential Remains High, But Cochlear Implants May Catch Up
Apple Patent Applications Hint at Future iPhone Uses with Hearing Aids
A patent application filed by Apple reveals that the company may include the ability to adjust hearing aids via its iPhone and a connection to a hearing aid provider or manufacturer. Participating hearing aid models will be designated as "Made for iPhone."
The most likely and obvious way in which the iPhone would be utilized is to act like a streamer, enabling the user to stream audio enabled devices—such as televisions, MP3 players, and computers—to the hearing aid. In addition to the iPhone, the new hearing aid functionality could be available through Apple's iPad devices, which have an operating system that mimics the iPhone.
According to one of the Apple patent applications, "Broadly speaking, the embodiments disclosed herein describe techniques, systems, and apparatus tailored to meet the needs of individuals having impaired hearing. More specifically, a mechanism is provided by which hearing aid users can in real time communicate with a remotely located hearing aid profile provider."
The patent applications, first reported by online magazine AppleInsider, describe a method for users to adjust their hearing aid profiles via their iPhone for certain background environments. The hearing aid and iPhone would communicate via a Bluetooth connection. In addition to being able to adjust parameters themselves through the iPhone, hearing aid users would be able to share their parameters and their environment with a "profile provider" social network, which may include hearing health professionals, or perhaps the hearing aid manufacturer. Theoretically, those admitted to the user's social network will be able to remotely assist the user through the iPhone, either suggesting adjustments for the hearing aid or sending an adjusted digital hearing aid profile that users can save to the iPhone and then transmit to their hearing aid.
The full patent has more details about the technology and can be read online at: ow.ly/cMjoE. However, as an industry expert noted to HR, these are only published patent applications (ie, they are patents that have not been, and may never be, issued). So, the above devices may never materialize.
However, what is clear is that a number of future hearing aids will utilize the iPhone in unique ways. Apple has stated that it "is working with top manufacturers to introduce Made for iPhone hearing aids that will deliver a power-efficient, high-quality digital audio experience" on the iPhone 4S. For example, Starkey Hearing Technologies is said to be working with Apple on products that leverage iPhone technology "to create exciting new experiences for patients." ReSound also is reportedly developing a wireless connectivity solution—using their 2.4 GHz frequency band—with a direct link from the iPhone to the hearing aid. Thus, "Made for iPhone" hearing aids that offer various connectivity solutions can be expected relatively soon.
---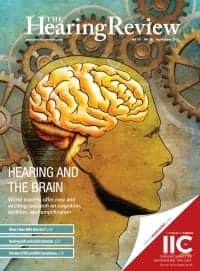 Get Your Digital Edition of THE HEARING REVIEW
Every month The Hearing Review and Hearing Review Products send THE DIGITAL EDITION OF ITS MAGAZINES FREE to over 30,000 hearing care providers around the world. These publications contain some of the most useful information for hearing care providers. Sign up to receive your e-editions now! Sign up for your free subscription.