ClearSounds has launched the QH2 Bluetooth Hub, designed to be a cost-effective tool to improve job performance, productivity, and morale for individuals with hearing loss in the workplace.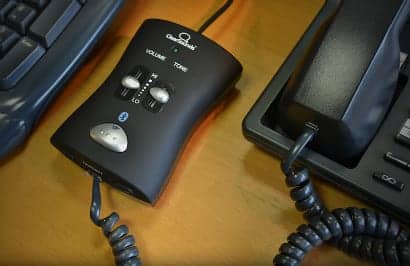 According to the company, the ClearSounds QH2 Bluetooth Hub is designed to make life just a little easier by turning almost any landline phone or office telephone into a hands-free Bluetooth device. Now you can connect any Bluetooth headset to your home or business phone.
The QH2 Hub reportedly connects to most Bluetooth headsets, neckloops, and hearing aid streamers, and it features 30 dB of amplification and volume control.
The new device features crystal clear wireless conversation using your existing phone, says ClearSounds. Simply connect the QH2 Hub to your phone, plug in the power cord, sync your Bluetooth earpiece to the Hub, and you are ready to move freely about your home or office while catching that important call from friends, family, or business contacts.
"In addition to residential application, the ClearSounds QH2 Bluetooth Hub is a terrific solution for HR managers, risk managers, and call center operators working with employees who struggle hearing on a regular telephone," says Michele Ahlman, president of ClearSounds Communications. "The number of Americans dealing with hearing loss is estimated at 35 million according to the Better Hearing Institute. We've created a Bluetooth Hub that can connect to most office telephone systems and wirelessly send the conversation to hearing aids, cochlear implants, and other Bluetooth headsets improving speech intelligibility for the hearing impaired."
For details, contact Michele Maher at [email protected] or (630) 321-2338.
Source: ClearSounds