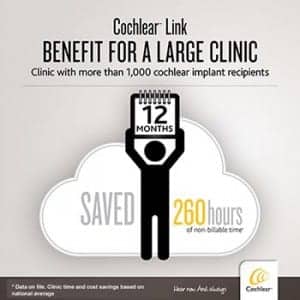 Cochlear Limited, a global leader in implantable hearing solutions, is highlighting the success of the company's Cochlear Link, a customer service data transfer system that is designed to make it easier for cochlear implant clinics to serve their implant patients while reducing costs.
Cochlear Link is a secure cloud-based data transfer system for clinics serving patients with Cochlear Nucleus® cochlear implants. The Cochlear Link software, enabled by Amazon Web Services (AWS), centralizes patient data and expedites device repairs, saving clinicians time and money on administrative tasks and enhancing service and support for patients.
Over a 12 month period, one large clinic with more than 1,000 cochlear implant patients saved 260 hours of administrative time using Cochlear Link.*
"Cochlear Link has been incredibly helpful to our clinic," said Holly Teagle, director, The Children's Cochlear Implant Center at the University of North Carolina. "It has increased our efficiency and improved our patient care by allowing us to quickly respond to patient needs. It's a win for all."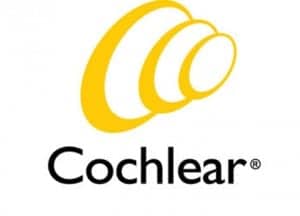 Through the secure sharing of patient information between Cochlear and the clinic, device repairs and services are facilitated faster, minimizing the time a Cochlear recipient may be without sound. The company reports that, of the clinics using Cochlear Link, 84% of service requests for Nucleus implant patients are completed within 24 hours, and 87% of service requests are processed without clinic assistance. Previously, service requests could have taken as long as 30 days to complete.
By utilizing Cochlear Link, a patient's cochlear implant device information is securely synchronized between Cochlear and the clinic. The service automatically registers a patient's device and warranty, ensuring accuracy and that the warranty starts on time. It also removes the clinician's time to fill out any forms or enter the information in manually. According to Cochlear, one clinic reported saving approximately 15 minutes per patient counseling session with the automatic registration feature.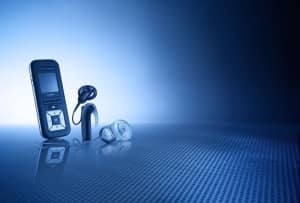 "As the industry grows and cochlear implant clinics continue to get busier, Cochlear saw the need to create the first cloud-based solution to help patients and clinics streamline treatment and service," said Bobbi Scheinin, group product manager, Software & Clinical Care, Cochlear North America. "Cochlear Link is a huge step forward in providing the best service and support for our customers while also helping our clinic partners get back to what they love most: caring for patients, not devices."
Other clinicians report that with Cochlear Link, patients benefit from faster turnaround time on replacement devices. Also, clinics benefit from less administrative time, which allows them to be more efficient in providing optimal service to cochlear implant patients.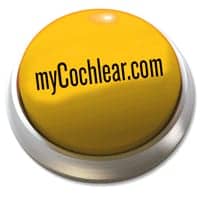 In an effort to further personalize a patient's hearing experience, Cochlear Link also offers a direct link to myCochlear Clinic, an online portal that clinics can access for troubleshooting information, education and rehabilitation materials, and community support tailored to a patient's specific cochlear implant equipment.
"The AWS Cloud provides organizations of all shapes and sizes with powerful technology that allows them to quickly, securely and reliably scale their businesses to meet the needs of their own customers," said Steve Halliwell, director, Healthcare and Life Sciences, Amazon Web Services Inc. "Using AWS, healthcare customers can offload the undifferentiated heavy lifting of their IT infrastructure to the cloud so they can focus on their own businesses. It's truly exciting to see customers like Cochlear use the AWS Cloud to help their clinics deliver even better care to patients."
Cochlear began onboarding clinics in September 2015 with Cochlear Link. As of October 2016, 202 clinics were using Cochlear Link, covering more than 60,000 patients, more than half of all Cochlear recipients in the US.
Cochlear Link is part of Cochlear's larger service offerings provided to clinicians at myCochlear Clinic. The myCochlear Clinic service innovations are designed to save time, help support patients and provide resources for optimal care at every stage of the patient's journey. Clinic professionals interested in exploring Cochlear Link can email [email protected] for more information.
Cochlear has a global workforce of 3,000 people and invests more than AUS$100 million a year in research and development. Products include cochlear implants, bone conduction and acoustic implants, which are designed to treat a range of moderate to profound types of hearing loss. Over 450,000 people of all ages, across more than 100 countries, now hear with devices from Cochlear.
Source: Cochlear