Oticon Medical announced the launch of the Ponto Trial Companion App, an app that helps to provide a way for patients to evaluate whether bone- anchored hearing and the Ponto Sound System are the right decision for them. The app is said to guide patients to experience different listening situations, from quiet home settings to more demanding environments, like restaurants, and rate their hearing experience. Patients can then email their ratings reports directly to their hearing care professional. During office visits, the rating report can help guide patient decision-making and allow hearing care providers to program the Ponto Sound Processor appropriately based on the patient's most common listening situations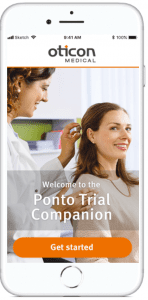 A recent study1 found that without the right experience and the right information, almost 40% of clinically suitable patients decide not to proceed with bone-anchored hearing solutions in the preoperative stage. The Ponto Trial Companion is said to support patients in the trial process by encouraging them to rate their experience in a variety of sound situations, so they gain the information they need to access how well the sound processor benefits them and their unique hearing loss. According to Oticon's announcement, the app format helps to make it "quick and easy" to record ratings while patients are in the actual listening situations, and equally easy for them to share those ratings with their hearing care professional.
The Ponto Trial Companion features three default listening situations: conversation in quiet, conversation in noise, and sounds in outdoor environments. Patients have the option to add a fourth situation from a list that includes classroom, office meeting, in car, watching TV, playground, or sporting event. Each listening situation can be ranked from very poor to very good and brief comments added, for example, "hearing was poor because the restaurant was extremely loud," or "people were speaking in the background, but I could still hear the TV." When a minimum of seven ratings have been completed, patients can email the ratings report directly to their hearing care professional.
Patients are encouraged to distribute their rating opportunities across the trial period, so they get the most benefit from the trial process. This allows them to experience the Ponto Sound Processor in the everyday environments that are important to them.
The Ponto Trial Companion App is available for free download from the App Store or Google Play in nine languages. The language of the app will adjust automatically depending on the language of the patient's phone. For more information about the Ponto Trial Companion App and Oticon Medical visit: www.OticonMedical.com/us.
Reference
1. Ng ZY, Allen S, Mulla I, Archbold S, Gregory M. Oticon Foundation. Decision-making: Bone conducting hearing implants for adults. https://www.earfoundation.org.uk/research/research-categories/current-research/decision-making-bone-conducting-hearing-implants-for-adults. Published: October 2017. Accessed: April 16. 2019.
Source: Oticon Medical
Images: Oticon Medical