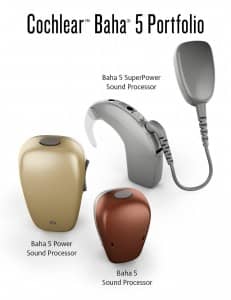 Implantable hearing products company Cochlear Limited has announced the commercial availability of the Baha® 5 Power and Baha 5 SuperPower sound processors in the United States. These processors were recently added to the company's portfolio of bone conduction solutions.
Cochlear reports that its two new powerful bone conduction sound processors are designed for people with greater levels of mixed hearing loss, a type of hearing loss that until now could not be treated.
"We are pleased to announce the availability of the Baha 5 Power and Baha 5 SuperPower Sound Processors to our customers," said Tony Manna, president of Cochlear North America. "We are providing a portfolio with a range of solutions to fit our customer's specific hearing loss need, which is incredibly important as we work to deliver innovative products to the marketplace. Our customers need devices that help them hear no matter where life takes them, and they are increasingly seeking products with wireless and smartphone connected capabilities. The Baha 5 portfolio of sound processors provides all of that."
For more information about the Baha 5 Sound Processor Portfolio, please visit the Cochlear website.
Source: Cochlear Limited