Honeywell Safety Products has introduced the QUIETPRO® QP100Ex, a new communication and hearing protection system designed for the oil and gas industry. The system provides life-critical communication and smart, verifiable hearing protection to workers in high-noise environments.
Based on advanced communications technology deployed by the military forces in harsh and challenging noise environments, the QUIETPRO QP100Ex is described as the next generation of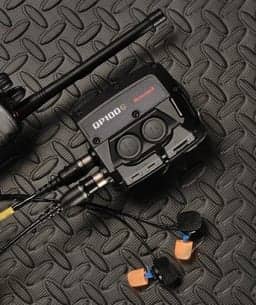 "intelligent communication technologies" for use in the offshore oil and gas industry.
Workers on offshore oil platforms and in other extreme environments can face life-threatening risks during each hour of their shift. Maintaining adequate levels of speech communications and situational awareness, and protection from permanent hearing loss due to exposure to high levels of hazardous noise, are critical to maintaining their own personal safety.
QUIETPRO QP100Ex features clear communication and situational awareness in rapidly changing, high-noise environments. Connected to two-way com radios, QUIETPRO QP100Ex allows users to hear communication without compromising listening quality, even in high-noise situations. Through its in-ear headset, QUIETPRO QP100Ex captures voice transmission inside the ear canal via air conduction, enabling users to speak at a normal level and be heard by the person on the other radio without picking up environmental noises, such as compressors or pumps in engine rooms, steel forging equipment, or draglines in surface mines, and without compromising speech intelligibility.
QUIETPRO QP100Ex also includes a patented digital Active Noise Reduction (ANR) technology that continuously monitors ambient sound and reduces the levels of noise across the spectrum of frequencies to acceptable levels in real time. This allows workers to hear ambient sounds at safe levels, even with intermittent and impact noise, and provides increasing low-frequency attenuation for clear, intelligible communications.
Through patented in-ear dosimetry, microphones inside each eartip measure every sound that reaches the user's ear, supplying continuous monitoring of personal noise exposure. Audible and visual signals alert workers when they are approaching or have met their daily noise dose. This enables safety managers and workers to address the potential of noise-induced hearing loss in real time. In addition, a patented automatic fit check at startup performs a quick calibration check to detect proper fit, and to validate adequate hearing protection and clear communication in each ear. Users are alerted if a minimum level of protection is not achieved and a refit is required.
SOURCE: Honeywell Safety Products