American Doctors of Audiology (ADA) members and volunteers converged on Capitol Hill in June to advocate for amending Title XVIII (18) of the Social Security Act by 2018.
If enacted, the changes would improve access for Medicare patients to hearing health care. The group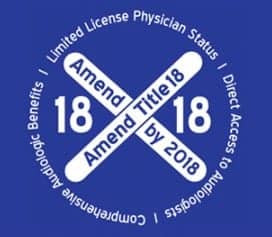 was made up of audiologists and representatives of the 18×18 organization, a national audiology initiative that seeks to amend Title 18 with the following provisions:
To provide Medicare patients with direct access to audiologists, without requiring a referral from a medical doctor. As medical necessity would still be required for treatment, this would not increase cost, and would only increase efficiency while preserving safe, effective care.
To allow seniors to have Medicare coverage of the full range of audiologic health care services offered by audiologists. In most cases, these services are already covered piecemeal under Medicare when delivered by another provider.
To define audiologists as limited license physicians under the Medicare program. This is the same status held by other non-medical doctor providers in the Medicare program.
More than two dozen representatives from ADA and lobbyists from Prime Policy Group attended 45 meetings with US Representatives, Senators, and/or members of their staffs. The 18×18 advocates say that their Capitol Hill visit will become an annual event.
"Our volunteer advocates demonstrated the leadership, passion, and commitment that will be required for audiology to achieve 18×18 and, with it, true autonomy," said ADA President Nancy Green, AuD. "We were able to provide legislators with concrete information about audiology as a doctoring profession, and to demonstrate why the 18×18 Initiative to Amend Title XVIII provides the best approach for the patient, the profession, and the taxpayer."
"The 18×18 Movement was instigated by ADA at the behest of its members," said ADA President-elect Brian Urban, AuD. "It has since been embraced by audiologists across the country who understand that neither best practices in patient care, nor true autonomy for the profession, will be attained until and unless 18×18 is achieved."
SOURCE: 18×18
Read more on the 18×18 Initiative from Hearing Review:
ADA Launches 18×18 Initiative at Convention