From knowing nothing about the hearing aid industry to creating products for it, Hackettstown, NJ-based Kingwood Industrial Products makes itself heard.
To hear Kevin W. Smith tell it, his company, Kingwood Industrial Products, as it is now, started off as a fluke. The Hackettstown, NJ, company had its beginning in selling steel burrs to the steel industry—something the hearing aid industry also uses. It was a meeting between Smith's father and company founder, Bill Smith, and a representative of a major manufacturer that changed Kingwood's course in 1989.

Kingwood Industrial Products' home base is in Hackettstown, NJ. The family business was established in 1989 by Bill Smith, who is now retired.
Although the elder Smith retired a few years ago, his son continues the family business as its president and owner. The younger Smith, who joined the company on its inception after graduating from college, admits that he and his father had no knowledge of the industry when they began, but became quick studies.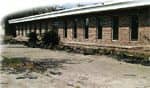 From left are Kingwood Industrial Products' management team members Donna Jensen, office manager; Rich Matyskiel, vice president; William Poyer, shipping manager; Bill Smith, director; and Kevin W. Smith, president and owner.
"We would go to the manufacturer and take a tour to look at how they were doing things and come up with products we thought would improve production time, reduce production costs, reduce product costs—anything we thought that might help—and then we came out with those products," Smith says. "It really started just from seeing how a hearing aid was made, from the impression in an ear until the final aid comes out and is fitted in a patient. We took a look at all the steps and came up with products that we thought would benefit the manufacturers."
Covering the Spectrum
Kingwood is a manufacturer and distributor of products that cover the spectrum of items used during the making, modification, and repair of a hearing aid and within the piece itself. Those products include grinders, wax springs, wind screens and scoops, tweezers, and hydrocolloid machines.
"We deal mostly with the machinery, the hands-on portion of the industry," Smith says.
Kingwood recently produced a new audio repair workstation that includes a workbench with a grinder, polisher, dust shield, dust collector, UV light, and vacuum pump for removing debris from a hearing aid.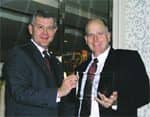 One of Kingwood's recent innovations is an audio/repair workbench. Shown above, the unit features a grinder, polisher, dust shield, dust collector, UV light, and vacuum pump.
"It's an entire setup designed for a dispenser or audiologist who's looking to really expand and do their own adjustments and repairs, but who doesn't have a lab in their office," Smith says. "It's difficult to do that on a desk while you're sitting there. This gives them the opportunity to have a small workbench designed specifically for this with its own self-contained dust collector [and] everything else that a manufacturer would use, but it comes as one unit, right on a pallet, right to your office.
"It's very simple and straightforward to use, even if the person is not technically inclined," Smith says.
Kingwood is also working on an LED-UV light that is more powerful and lasts longer than a standard halogen-UV light for use in the manufacturing and repair ends.
"There's constantly development going on here," Smith says. "The best test for any product is right on the line. As good as it looks on paper, sitting in front of me on my desk, it doesn't really matter until it gets on a production line to see how it works."
While Kingwood often creates products for hearing aids that the staff developed themselves, the company is also often approached by outside manufacturers for assistance with developing their products.
The six-member staff offers support services via telephone for customers. "Everybody here who's on the phone knows the products well. If we don't have the answer, which is rare, we'll get the answer," Smith says, adding that the attention his smaller staff can provide to customers is just one of the things that separates Kingwood from other companies.
"The hearing aid industry has been changing so much. A lot of the manufacturers are purchasing other manufacturers. The industry for manufacturing is getting smaller. A lot of smaller manufacturers went out of business or were just purchased by larger ones and absorbed into that," he says.
Unexpected Start
While Kingwood had an unexpected start in the hearing aid industry, the company has made a name for itself with customers across the United States and overseas. Over the years, it has expanded its client base from manufacturers to also include dispensers and audiologists, as more and more of them perform on-site adjustments of hearing aids themselves, instead of sending them back to the manufacturer.
"[In the beginning], our largest market was the manufacturers. We didn't deal too much with dispensers and audiologists—now we do. Now the dispensers and audiologists are becoming more hands-on," Smith says.
"It's been an amazing ride. In the beginning, it definitely wasn't planned, but you get into an industry and you like it … and you enjoy what you're doing and the company just goes and takes off. You stay on top of what's going on, which we desperately try to do, and make adjustments as you need to, and keep going," Smith says.
"The industry is always changing, so you always want to keep on top of what's going on. We need to keep producing products that are going to help the manufacturer and the industry," he says. "As hearing aids are made differently and better, you always need to adapt your products."
Danielle Cohen is associate editor of Hearing Products Report.