Sonova announced that its film, "Life without Limitations," has received a gold award at the International Commercial Film Festival, the largest competition for commercial films from the German-speaking world.
Filmed by Ehrin Macksey Productions and based on the story of a young soccer player with profound hearing loss named Simon Ollert, the film shows how his Phonak hearing aids enable him to live a life without limitations.
"My story shows just what you can achieve despite hearing loss," says Ollert. "I have a great life and don't feel restricted in the slightest."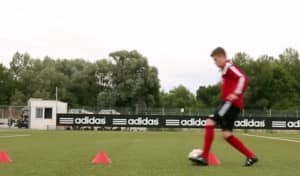 For as long as Ollert can remember, he has dreamed of being a professional soccer player. Ollert grew up in the foothills of the Ammergau Alps where, as a young boy, he wrote down his life's dream on a sheet of paper and hung it over his bed: "Become a professional soccer player!" Despite being born with profound hearing loss, Simon and his family have worked hard to improve his speech and communication skills, and he has relentlessly pursued his dream to play on a professional soccer team.
According to Ollert, his hearing aids brought him far more than just better hearing and quality of life; they spurred his ambitions. "When Simon got the hearing aids, he never wanted to take them off," said his father. "They were his favorite thing."
The award-winning film about Simon and his determination to become a professional soccer player despite his hearing loss also recapitulates the cover story of Sonova's most recent annual report (2015/16), and carries on the company's story-telling concept. Sonova won the "Rising Star" award in last year's Swiss Annual Report Ratings, with the jury being particularly impressed by the story-based concept and emotional appeal of the annual report.
To learn more about Simon Ollert and to view the short film, visit the Features page on the Sonova website.
Source: Sonova 
Image credits: Photography, production company & film maker, Ehrin Macksey Productions