Study finds OTC hearing aids provide comparable benefits to traditional devices
In a study published in the Journal of the American Medical Association (JAMA) – Otolaryngology—Head and Neck Surgery, researchers from the University of Colorado and the University of Pretoria concluded that self-fitting over-the-counter hearing aids (OTC) provide an equal benefit to audiologist-fitted devices.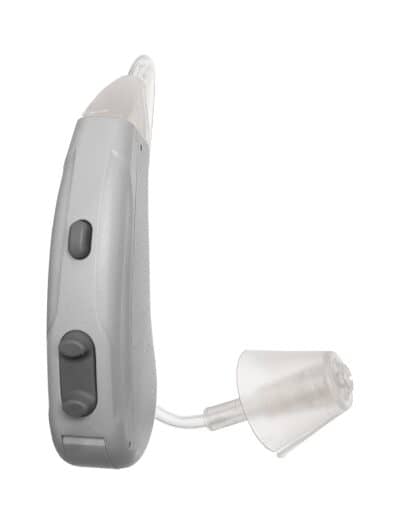 According to the researchers, half the participants in the trial group were given Lexie Lumen hearing aids, which are commercially available online and at pharmacies across the U.S., and instructed to self-fit them as they would have if purchased from a retailer. The second half were given the same hearing aids fitted by an audiologist using the standard protocol for an in-office visit.
After the initial fitting, experts noted that neither group was given access to additional audiological or remote support for fitting or fine-tuning. Following the initial two weeks, OTC wearers were provided ongoing access to Lexie remote support for fine tuning. Those with the audiologist-fitted hearing aids were able to access support and fine-tuning from an audiologist. Within the first two weeks of the study, Lexie wearers wore their hearing aids longer and reported better outcomes than those using audiologist-fitted devices. After six weeks, the researchers concluded that the benefits between self-fitted OTC hearing aids and audiologist-fitted hearing aids were comparable with no statistically significant difference.
"This randomized controlled trial adds significantly to the growing evidence of positive outcomes attainable with high-quality OTC hearing aids accompanied by well-conceived approaches to self-fitting and user support," commented Larry E. Humes, Distinguished Professor Emeritus at Indiana University. "This well-executed clinical trial is one of the first to make use of actual OTC hearing aids and supporting smartphone apps. The positive user benefits obtained should be welcome news to the millions of adults with mild-to-moderate hearing loss in need of hearing assistance." 
In October 2022, the FDA approved a new category of self-fitting hearing aids to be sold over-the-counter by retailers across the U.S.—a move that reportedly expanded access to hearing health for tens of millions of American adults living with mild to moderate hearing loss. Experts have noted that OTC hearing aids typically cost less than a quarter of the price of traditional audiologist-fitted hearing aids, and can be purchased and fitted at home, saving wearers multiple trips to the audiologist for appointments that are often funded out of pocket.
"The results of this effectiveness trial is great news for millions of Americans looking for affordable hearing solutions without sacrificing quality," explained Brian Maguire, Senior Vice President for Lexie Hearing and head of its North American operations. "Everyone, everywhere deserves better hearing, and the OTC hearing aid market is vital to reaching that goal."
For more information about the JAMA study or Lexie Hearing, or to take a free online hearing test, visit LexieHearing.com.
Source: Lexie Hearing
Images: Lexie Hearing