March 2013 Hearing Review Products Table of Contents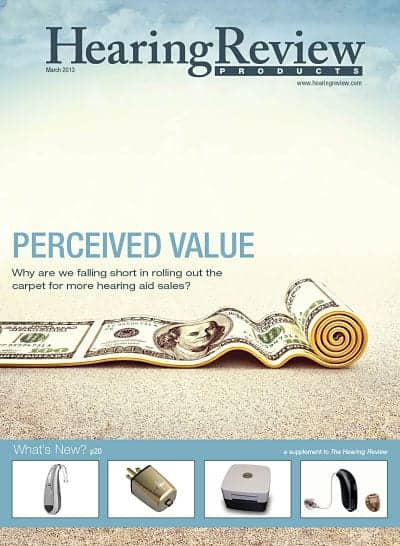 EDITOR'S MESSAGE
Maybe the best reason yet to unbundle prices.
By Karl Strom
FEATURES
Influence of Perceived Value on Hearing Aid Adoption and Re-Adoption Intent
Unbundling definitely has its benefits
By Amyn M. Amlani, PhD
Optimizing Noise Reduction Using Directional Speech Enhancement
A review of old and new strategies for hearing speech in noise
By Patricia Ramirez, AuD, Catherine Jons, AuD, and Thomas A. Powers, PhD
Phone Solutions to Fit Every Need
Finding the appropriate phone option for individual users has become critical in dispensing hearing instruments
By Jenny Nesgaard Pedersen, AuD
DEPARTMENTS
What's New at AAA?
Review of some of the latest hearing care products that manufacturers and distributors are featuring at the 2013 AAA show in Anaheim, Calif.
Just the Specs!
Our quarterly under-the-hood graphic view of five hearing aids.
Just the Stats!
A statistical look at the hearing healthcare field.
You can also read our interactive March HRP print edition. Click here.