More than a half century ago, now the globally successful hearing instrument company was, literally, born in the basement of its cofounder Mas Harada.

Michael Eckert
Hearing Products Report recently had the opportunity to discuss the business model of Minneapolis-based Qualitone with the company's managing director, Michael Eckert.
HPR: Please provide some background information on Qualitone. When and where was it established? Where is the company headquarters now?
Eckert Qualitone was founded in 1953 in Minneapolis on the principle that "Business Must Be Earned." Operations began in the basement of Mas Harada, one of the company's original founders. The company's current headquarters is a new state-of-the-art manufacturing facility in Eden Prairie, Minn.

The new facility features the latest automation and laser technologies to enable faster and more efficient production of hearing instruments. We've also expanded our ability to serve professionals better. Our new facility allows for more professional education opportunities. In the coming months, we'll be offering business, marketing, fitting, patient-care, staffing, and product courses to help professionals maintain profitable and competitive practices.
HPR: Who were the founders of the company? What was their motivation to enter the hearing health care arena?
Eckert Richard Burger and his partner, Mas Harada, started the company in 1953. Since then, Qualitone has grown to become a global multi-million dollar hearing instrument and audiometer supplier. In June of 1996, Qualitone was purchased by William F. Austin, CEO of Starkey Laboratories.
HPR: Does the company distribute its products both domestically and globally?
Eckert Yes. In fact, Qualitone established its first international distribution account in Germany, in 1957. This was an innovative move for an American hearing aid manufacturer at that time. In addition to more than 1,000 domestic distributors, Qualitone currently has distributors on every continent.
HPR: What is the primary technology offered by Qualitone?
Eckert All of Qualitone's products incorporate the latest digital and directional technologies and are based on the science of hearing. If hearing instruments are developed according to the ever-increasing knowledge about the science of hearing, the development path is clear and concise. By understanding the scientific aspects of normal hearing, digital signal processing can be designed to counteract the effects of impaired hearing.
HPR: What technologies does Qualitone offer? Please describe them.
Eckert We provide six different programmable digital products, including the Marquise, Duo, Radiant, Trilliant, Evolution, and Quantum—as well as two new exciting products.
The new QT-Mini and Advantage Extreme Power (XP) instruments allow our customers to expand their sales opportunities.
The new QT-Mini is truly an exciting solution. I hesitate to call it a hearing instrument because it's so drastically different than a traditional hearing aid. The QT-Mini is so unique, we've coined a new product category for it. It's the industry's first On-The-Ear or OTE. QT-Mini's CIC-like cosmetics, instant fitting capability, and price will definitely help professionals attract younger patients with mild high-frequency losses.
Advantage XP is the first in Qualitone's new line of BTEs. A smaller, totally redesigned case incorporates a new multifunction switch with a variety of other patient-friendly features. Our long history of innovative power solutions continues with the XP model. XP offers patients with severe to profound hearing the industry's most powerful digital, directional BTE.
Finally, our new AA50 Audiometer continues to build on the excellence we've developed since we introduced audiometers to the industry. NOAH certified, it is flexible, portable, and includes pure tone air, bone, masking, and speech testing capabilities.
HPR: Qualitone developed the first speech audiometer specifically designed for fitting hearing aids. How did this come about? Who was the innovator?
Eckert Mas Harada, Qualitone's chief engineer, began working on the Model QA, the first speech audiometer, in the late 50s. By the time it was introduced in the early 1960s, the QA was considered an innovative breakthrough. It incorporated vacuum-tube technology and a record player. Development of the QA grew out of the industry's need for more effective diagnostic equipment.
HPR: How does Qualitone help hearing health care professionals market its products?
Eckert Qualitone provides extensive education and assistance to our professional partners. We create consumer literature and advertising that are personalized to individual practices. We also offer a variety of advertising and educational material to generate knowledge about the causes and effects of hearing loss and benefits associated with amplification. The consistent mix of literature ranges from brochures dispelling the myths associated with hearing loss to lead generating direct mail programs and ads, along with a multiplicity of attractive and thought-provoking point-of-sale options.
In addition, we offer a variety of professional development courses that address the most vital areas of building and maintaining a competitive practice. A series of 2-day focus classes offer hearing care professionals business, marketing, patient-care, staffing, and product training.
HPR: Does Qualitone have a typical customer—eg, size of office, volume, and geographic location?
Eckert We are happy to work with any hearing care professional who has demonstrated their dedication and ability to provide the highest levels of patient care. We believe superior hearing care comes from professionals who understand their community and the needs of each patient.
Our typical customer has an exemplary history of providing superior patient care and prefers to work with us because of our emphasis on quality products, patient care, and sound business practices. The majority of our customers are small independent practices that make their own business decisions, but are looking for ways to better compete in today's marketplace.
We help them achieve their business goals by providing the right tools to position their practices for increased growth in their marketplace.
HPR: Also, the company offers a unique financing program. What are the details?
Eckert SoundChoice financing provides patients with no-interest and low-interest payment options for all of their hearing care needs.
When it comes to hearing loss, most patients want the hearing instrument that is right for them. But all too often, patients are unprepared for the cost and may ask professionals to recommend less than optimal technology. SoundChoice helps patients overcome price objections to help obtain the best possible solution.
Practices have a wide range of payment options to offer patients, with financing available from $1 to $25,000. All the SoundChoice payment plans feature no up-front costs, annual fees, or prepayment penalties. Patients fill out a short and simple credit application, which is submitted by your practice via phone, fax, or online. The whole process takes only a few minutes. Professionals can even preapprove patients for SoundChoice before their appointment or the financial discussion. So the professional can present a low monthly payment option at the same time they recommend care.
HPR: Does Qualitone maintain an R&D department?
Eckert Yes. In addition to developing our own products and technologies, we work closely with Starkey's R&D group to leverage resources, share ideas, and stay ahead of the curve in the fast-moving world of technology. Developing technology internally allows for more product control and the ability to truly address the needs of the hearing impaired.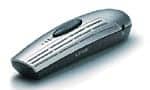 Our innovation is the result of a continued commitment to make superior products with tangible advantages that can be seen and heard. Innovation is not always easy and not always fast, but it does result in a better hearing instrument. Our latest efforts are evident in the new QT-Mini and Advantage XP BTE.
HPR: What new products are on the horizon in the next 12 months?
Eckert Qualitone will continue to develop products that address the needs of specific patients. As we continue to work on our directional line of products, we are discovering ways to make them easier to fit. Another area of attention is our effort to create products for younger people with hearing loss. This is a growing market segment and we want to be there to help. We'll also capitalize on the tremendous style and power gains that our newly introduced Advantage BTE line provides.
HPR: What are the model goals for the company for the next decade?
Eckert We want to continue helping hearing care professionals serve their patients with the latest technology, the best service, and a focus on customer satisfaction. Our goals are smart growth through providing the link to "Better Living Through Better Hearing." We believe that Qualitone provides a complete business model to handle the rapidly changing demands of today's hearing care market. We will continue to provide the resources in business practices, advanced technology, and patient care to support our customers and their patients. Our philosophy of hearing care requires a well-focused approach that addresses today's and tomorrow's ever-increasing challenges of helping hearing care professionals serve their patients better than any other source.
—Rogena Schuyler Silverman