Starkey Hearing Technologies, Minneapolis, Minn, has released its most advanced wearable hearing solutions to date, "Made for Life," which are powered by the company's new Synergy platform and Acuity™ OS operating system. Starkey's "Made for Life" launch includes the next generation of Made for iPhone hearing aids, Halo 2; a wireless Invisible-In-the-Canal hearing aid called SoundLens Synergy; and Muse, a new family of 900sync™ hearing aids.
"Starkey has long been a pioneer and an innovator in the hearing industry," said Starkey Hearing Technologies Chief Technical Officer Tim Trine. "With this powerful new suite of hearable solutions, we're continuing to redefine the way people hear, communicate, and connect. Synergy offers patients comprehensive listening enjoyment with high-definition audibility."
According to the company, Halo 2, Muse and SoundLens Synergy have the company's high-performance features, such as feedback cancellation, adaptive noise management and directionality, Surface™ Nanoshield moisture and wax repellent, and Starkey's patent-pending Multiflex Tinnitus Technology, among others.
The company says the Synergy platform has quad core twin compressor technology and works with Acuity OS to binaurally process, classify and adapt multiple sounds simultaneously, so that speech can be more crisp, ambient sound more natural, and music richer and more immersive.
Synergy features five times the processing power of previous platforms, an expanded dynamic range, and channel processing with up to 24 channel adjustment.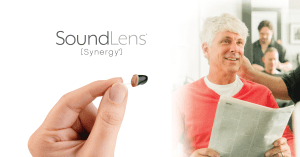 Synergy is also said to have a unique music prescription developed with input from both professional musicians and current hearing aid wearers. Designed to accommodate music's dynamic acoustics and spectral characteristics, these new features help ensure musical listening is clear, crisp, and enjoyable. A higher sampling rate also extends the hearing aid's bandwidth up to 10kHz, enabling music to sound richer and fuller.
Muse is the company's a new line of hearing aids that offers high-definition audio and SurfLink connectivity. Powered by Starkey's 900sync wireless technology, Synergy platform, and Acuity OS, the Muse line also comes in custom and standard styles, including a slender micro receiver-in-the canal (RIC) 312 with a telecoil, and the small and slim mini behind-the-ear (BTE) 312.
Muse hearing aids also include Starkey's new wireless CROS system. The CROS system is said to provide high-definition audio and ear-to-ear phone streaming with quality, clarity, and consistency of sound to patients with single-sided hearing loss. A BiCROS solution is also available and can benefit patients with little to no hearing in one of their ears and hearing loss in their better ear.
Also powered by the 900sync technology, the SoundLens Synergy Invisible-In-the-Canal (IIC) hearing aids reportedly provide patients with wireless connectivity through their phone or any other Bluetooth™ device.
Powered by our TruLink™ 2.4 GHz wireless hearing technology, Halo 2 Made for iPhone hearing aids are designed to enable connectivity with iPhone, iPad®, iPod touch®, Apple Watch®, and select Android™ devices, providing high-definition audio and allowing patients to stay connected to the people and things they love most. Halo 2's release is accompanied by the latest version of the TruLink Hearing Control app, TruLink 3.0. With TruLink and Halo hearing aids, patients can wirelessly stream* phone calls, music, and media, control hearing aid volume and memories, create personalized and geotagged hearing aid memories, adjust sound settings in any environment, and locate lost or misplaced Halo devices. Two additional features are new to TruLink Hearing Control 3.0: a new tinnitus treatment whereby integrated controls allow users to control the volume and modulation rate of the Multiflex Tinnitus Technology; and Real-Time Notifications that let users hear email, calendar, message, and social notifications directly through their Halo 2 hearing aids.* (*Only with Apple® devices.)
Surflink accessories are designed to provide patients with remote hearing aid control capabilities, enhanced listening in difficult environments, and wireless streaming without an intermediary or worn device. Starkey SurfLink accessories seamlessly connect with Muse and SoundLens Synergy hearing aids. The SurfLink Media 2 device enables patients to listen to any media device directly through their hearing aids, while the discreet, lightweight SurfLink Remote Microphone enhances one-on-one conversations.
Source: Starkey Hearing Technologies