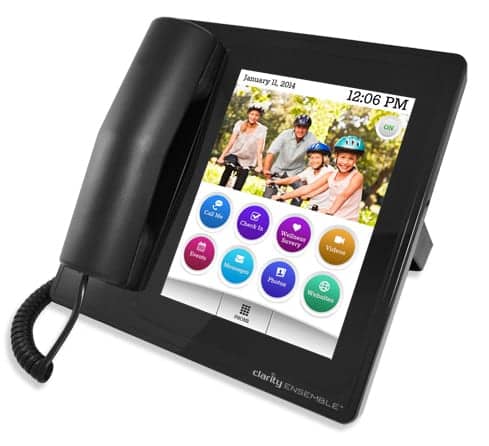 Clarity has launched ClarityLife, a new platform for the company's Ensemble home phone that allows family members to check on aging loved ones.
Designed primarily for older seniors living alone, ClarityLife keeps family members and caregivers up-to-date with their older loved one's activities through a series of social and wellness features including check-ins, medication and appointment notifications, compliance monitoring, and the ability to share social messages, photos, and videos to keep the senior engaged.
ClarityLife is a service available on Clarity's Ensemble home amplified phone. Senior users have access to the platform through Ensemble's tablet display, which has several features designed to keep them better connected with caregivers and loved ones. Meanwhile, invited friends, family and caregivers can log into a secure web portal to remotely configure, schedule and monitor compliance with medications, treatments, and important appointments. The ClarityLife service alerts caregivers if anything is out of the ordinary. For example, seniors can "Check-In" on the phone every day to let family members know they are up and moving. Caregivers will automatically receive an alert on their smartphone, tablet or PC if the "Check-In" is missed.
Recognizing that medication compliance is critical to leading an independent life, caregivers can set medication reminders to appear on the ClarityLife screen. Should the senior forget to take a medication or test their glucose, for example, the platform will automatically alert the caregiver. Loved ones can set other important reminders for seniors as well, such as doctor's appointments, a grandchild's birthday, or an upcoming visit.
"ClarityLife offers a simple way to make sure the older senior in your life is okay," said Jamie van den Bergh, president of Clarity. "Through ClarityLife, we are easing the anxieties caregivers face by creating a simple, smart connection through the home phone—a device seniors are comfortable using. It lets you welcome older loved ones who aren't part of your family's online social networks into your digital world. Our goal is to help seniors and loved ones share more, worry less and provide peace of mind to everyone in the family."
Clarity, a division of Plantronics, reports that family members can send emails or text messages directly to ClarityLife, which comes with an email account and unlimited text messaging. Unlike computers or tablets, seniors are notified immediately without having to login or launch apps and the messages can be seen in large easy-to-read text. The senior can then reply or text new messages to family members using the on-screen keyboard. Family members can also send photos to the system, which will appear on the Ensemble phone's touchscreen display, turning the phone into a digital picture frame.
For more information about the Ensemble home phone with ClarityLife, visit the Clarity website.