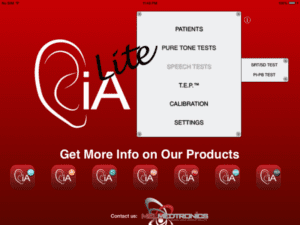 MelMedtronics, Tyler, Tex, has launched seven new iA Audiometer applications (apps) for the iPad®. It says the iOS apps were developed to meet all of the medical device standards (ANSI 3.6-2010 and IEC EN 60645) for evaluating hearing.
A free iA-Lite version is available at Apple®'s App Store to allow hearing healthcare providers an opportunity to "test drive" and evaluate all of the many features prior to making a purchase. There is a screening version designed for public school hearing screenings, a picture pointing test for pediatric patients, and a full feature model that also generates a self-populating clinical report. All of these iA Audiometers have a patient database and the results can be saved, printed, and emailed right from the iPad.
Product descriptions and screen shots of the apps can be found at the iTunes store.
Source: MelMedtronics