"I never perfected an invention that I did not think about in terms of the service it might give others… I find out what the world needs, then I proceed to invent…"
– Thomas Edison
When he was 7 years old, his teacher sent him home from school because she felt his brain was "addled." He was extremely hyperactive, always wanting to know how things worked and why. As a preteen, he set up a chemistry lab in the basement of his parent's home. At 16, he had an idea that revolutionized how people communicate over long distances. Within 6 months, he received his first patent.
By the time he was 29, he created a device that would make telephone conversations easier to hear. A year later, he figured out how to record and reproduce sound. Soon, he created the foundation of what was to become wireless telegraphy. Several years later, he invented a machine that transcribed telephone conversations. His inventions made the world realize the profound effect that connectivity through speech has on everyday life.
What the world didn't realize was that, when he was only 14 years old, Thomas Alva Edison—the man responsible for so much communication technology—had himself lost 80% of his hearing in his right ear and was completely deaf in his left ear.

Frank Endres is the national outreach manager for Hamilton CapTel®. Correspondence can be addressed to HR or Frank Endres at (843) 236-2241 or .
The Americans with Disabilities Act
Edison's earliest inventions led to the development of several telecommunications devices specifically designed to meet the needs of people who are deaf or hearing impaired, including the TDD and TTY.
Although these devices provided assistance to many individuals who were profoundly deaf, it was less-than-ideal for those with mild, moderate, or severe hearing loss. Even so, the TTY was the primary telecommunications technology available to those with hearing loss when the Americans with Disabilities Act (ADA) was passed in 1990.
The ADA successfully mandated handicapped parking spaces and wheelchair-accessible ramps—and it opened the doors to closed-captioning (CC) on television programs. But perhaps the most significant impact the ADA had for those with hearing loss was that it led to the development of relay and captioned telephone (CapTel®) services. More specifically, Title IV of the ADA required that assistive services be made available free of charge to qualified end users in any state, at any time.
As technology advanced, telephone relay services (TRS), Internet relay, and video relay were developed, enabling those with hearing loss to communicate remotely with hearing individuals. Still, there were limitations in terms of accessibility and mobility for those on the go.
The Introduction of Captioned Telephone Technology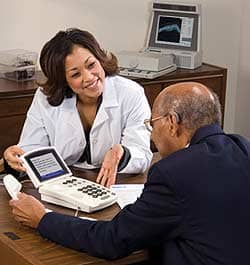 FIGURE 1. The CapTel 800i® phone allows audiologists to recommend a solution for people with higher levels of hearing loss. With a high-speed Internet connection and an analog or digital phone line, users can read captioned transcriptions of their telephone conversations while they simultaneously listen on the line.
In 2003, the captioned telephone was introduced. In its original form, CapTel was an analog technology that allowed those with hearing loss to listen to and read captions of the other party's words through the use of a specially designed CapTel phone. Captions appeared on the phone display screen in nearly real time. This advancement in hearing technology helped create a sense of independence for people who previously may have felt limited by their hearing loss.
The Next Generation of CapTel
As with all technology, change is always on the horizon. The original CapTel analog technology has advanced significantly, bringing with it the new CapTel 800i telephone, which was introduced in 2009 (Figure 1). This latest addition to the CapTel family of solutions, available from Hamilton CapTel, uses an existing phone service (either analog or digital) for the voice portion of the call, together with a high-speed Internet connection, which delivers captions on both incoming and outgoing calls.
Captions are provided by a captioning service that connects to each call. A specially trained CapTel operator re-voices the words of the standard telephone user in a clear, concise monotone voice. Then, unlike traditional relay, the captionist's voice is processed by computerized voice recognition (VR) software, and the data is converted into captions. As the words are heard by the CapTel user, they are simultaneously generated into captions on the CapTel user's screen in near-real time. The CapTel user listens to the party with whom they are speaking while supplementing what they hear by reading the captions, and the captionist is not heard by either party.
Captions on the CapTel 800i can be turned off or on at any point during a call, and the large 5-inch caption window has adjustable font sizes and colors. The volume control can be adjusted up to 40 dB for captioned calls and up to 18 dB for noncaptioned calls. The phone also features instant access to CapTel customer service, caller ID capability, and an easy-to-use "Yes/No" menu system.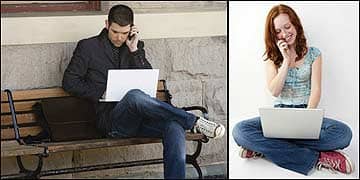 FIGURE 2. Web Captioned Telephone (Web CapTel®) service allows individuals who have difficulty hearing on the phone the freedom and mobility of using CapTel services from virtually anywhere. All that is required is a standard or mobile telephone and a computer with an Internet connection.
This device is designed to combine the convenience of a traditional telephone with the text capabilities of the Internet. All that is needed is an existing phone line and a high-speed Internet connection. The CapTel 800i operates the same as a traditional land-line phone, and no software or downloads are required.
Web Captioned Telephone
Another recent advancement in captioned telephone technology is Web CapTel, which makes captioning services available to users online virtually anywhere, anytime (Figures 2-3).
Using a high-speed Internet connection and a standard or mobile telephone, users can place and receive captioned calls from almost anywhere and display them on their computer or laptop screen. The user can easily enlarge or decrease the size of the type font, and save and print captions for reference later.
As with all captioned telephone services, Web CapTel service is provided free of charge to users. Since it is an Internet-based service, it eliminates long-distance telephone charges, and no special equipment or software is required.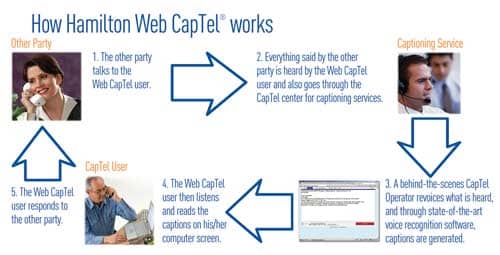 FIGURE 3. Requiring only a standard or mobile telephone and a computer with a high-speed Internet connection, the Web CapTel allows individuals with hearing loss to communicate freely when they could not before.
Mobile Captioned Telephone
FIGURE 4. Mobile CapTel® is the first single-phone, mobile captioned telephone service designed specifically for on-the-go individuals with hearing loss. Originally released on the Apple® iPhone™ 3G, it can be used virtually anywhere on a mobile device capable of supporting both voice and data simultaneously through a 3G Network or Wi-Fi connection.
Another recent captioned telephone innovation is Mobile CapTel (Figure 4). Like all CapTel service, Mobile CapTel is available free of charge to those with hearing loss. Utilizing their residual hearing to listen to the conversation through the headset, users read word-for-word captions on an iPhone 3G screen.
Requirements include an iPhone 3G, a compatible wired or Bluetooth headset, and a 3G network service or Wi-Fi connection that supports simultaneous voice and data transmission. Although this service is currently available only on the iPhone 3G, Mobile CapTel will soon be available on a variety of devices and networks.
The Need Is Great
According to the Hearing Loss Association of America (HLAA), 1 in 10 (28 million) Americans has hearing loss. This number is expected to nearly double by the year 2030, as Baby Boomers reach retirement age. Among seniors, hearing loss is the third most prevalent-but-treatable disabling condition next to arthritis and hypertension.
The challenges that accompany hearing loss are many—a feeling of being disconnected and out of the mainstream, a loss of security, and difficulty in accomplishing seemingly easy, everyday tasks—simply because it is so difficult to hear. Connectivity—the very essence of Edison's aforementioned inventions—is so critical to end-users. Especially for individuals who have difficulty hearing over the phone, seeing what's said restores their functional ability to effectively use the phone.
Hearing Professionals Play a Vital Guiding Role
Why CapTel is Useful
Recently, a survey was conducted among captioned telephone users who depend on a variety of CapTel platforms every day. This is what several respondents said about CapTel technology:
"CapTel is a godsend. It allows me allows to listen with my implant, hearing the person I'm calling—and read the captions if I miss any of the conversation." —CapTel user Barbara Chertok
"I'm a Certified Financial Planner and own my own business. Web CapTel has made a big impact on my quality of life." —Businessman and Web CapTel user Ron Bibler
"… the other thing I like so much about CapTel is, when people speak very fast, I'm still hearing enough, but not picking up everything. When the conversation is over, I can just rewind and follow the whole conversation again."—the late Marcia Dugan, hearing awareness advocate
"I've been retired for many, many years and I have severe hearing loss. I have four children, all of whom are grown up and gone, but I like to keep in touch with them and see what's going on in their world, and hear about their grandchildren, my grandchildren, and their children. The severe hearing loss has made it really difficult for me to hear on the telephone. So I was absolutely delighted when I heard about the CapTel over the computer so I could read the conversation on my computer screen." —CapTel user Louise Allen
Unfortunately, in Edison's day, there weren't many solutions for those with hearing loss. Now, options are numerous. However, many qualified end-users are unaware of all that is available.
Audiologists, hearing instrument specialists, and other hearing professionals are a vital educational resource, as well as serving a guiding role for their patients. Patients depend on these professionals for advice on the technologies that are best suited to their individual needs. Hearing aids and other standard solutions are just one component in a wide field of options for those with hearing loss, and for many patients, hearing aids can still present challenges during telephone conversations.
For those who have difficulty hearing on the phone, CapTel is both a viable and exciting solution. For dispensing professionals, it can mean the difference between lost business or patient retention and referrals.
As insurance providers continue to change coverage options for plan participants, it's important that patients know about available, cost-effective options. Individual state relay programs provide educational information to residents about the CapTel services that are available to them. This includes information on obtaining a CapTel phone through state-assisted distribution programs.
For use in lobbies and waiting rooms and at no cost to hearing professionals, Hamilton CapTel provides informational brochures and DVD presentations about Web CapTel, Mobile CapTel, and the new CapTel 800i phone service. In addition, the company provides educational PowerPoint presentations for audiologists to use during consultations. Hamilton has also developed a Web site (www.hamiltoncaptel.com) where site visitors can register for free CapTel service and learn more about everything CapTel offers.
Citation for this article:
Endres F. Connectivity through sound: A brief history of captioned phones. Hearing Review. 2010;17(3):68-69.