Clearwater Clinical Limited announced that the company has received CE Mark—a signifier that products sold in the European Economic Area (EEA) have been assessed to meet safety and other protection requirements—approval for SHOEBOX Audiometry in Europe as an audiometer intended for diagnosis of human hearing loss. SHOEBOX, according to Clearwater, is reportedly "the world's first CE-Marked" iPad-based audiometer. The device is also listed as a Class II medical device with US FDA and Health Canada, according to the announcement.
The CE Mark approval was based on clinical evaluation and demonstrated conformance to European harmonized standards in areas of health, safety, and environmental protection, and allows SHOEBOX to be used to perform clinical hearing testing in the European market.
"We are proud of this significant milestone," said Michael Weider, CEO of Clearwater Clinical. "There has been growing demand for SHOEBOX outside of North America. The addition of the CE Mark to our long list of approvals, accreditations, and validations is vital to our planned expansion into the European market. It is also further evidence of our commitment to meeting the highest standards of quality and regulatory compliance as a medical device manufacturer."
Comprised of SHOEBOX Audiometry software, an iPad, calibrated transducers, and a cloud-based data management system, SHOEBOX is designed for ease-of-use and portability. SHOEBOX is designed for mobile clinicians, occupational hearing conservationists, clinical research, and more, according to Clearwater. The system also offers a variety of testing options, from self-testing to test administration by hearing health professionals.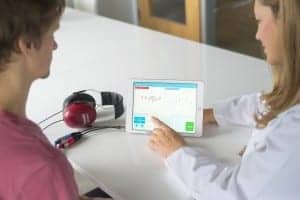 In addition to securing CE Mark approval, all patient-facing screens of SHOEBOX Audiometry in automated mode are also now available in 27 different languages. Translations include:
Afrikaans
Arabic
Belarussian
Bosnian
Bulgarian
Croatian
Czechoslovakian
Danish
Dutch
English
French
Georgian
German
Hebrew
Hungarian
Italian
Japanese
Korean
Lithuanian
Polish
Portuguese (Portugal)
Russian
Serbian
Slovakian
Spanish (Spain)
Turkish
Ukrainian
Source: Clearwater Clinical Limited
Images: Clearwater Clinical Limited