Clarity has introduced the new Fortissimo voice-activated, hands-free speakerphone with social media services.
Fortissimo features 85 dBSPL of amplification, which allows users to have conversations from anywhere in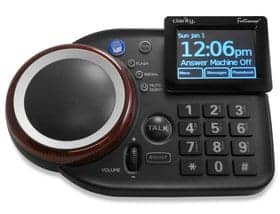 the room in which the speakerphone is located. The phone can also be operated with a remote pendant.
"Fortissimo is the ultimate phone for people with limited mobility," said Carsten Trads, president of Clarity. "If you are in a wheelchair or simply can't move quickly around your house, Fortissimo is for you. Because of its powerful amplification and digital sound processing, it allows you to have phone conversations where you are most comfortable."
Fortissimo's talking caller ID and large LCD touch screen help users identify incoming callers from a distance. It also features the Plantronics Vocalyst™ voice service, which allows users to post on Facebook and Twitter, email, listen to voicemails and news feeds, and check the weather by speaking commands to the device.
It also includes ClarityLogic, which allows Clarity technicians to remotely access and make adjustments to a user's Fortissimo. Clarity representatives can adjust the volume, program the phonebook, and make upgrades.
SOURCE: Clarity