Bernafon BTE hearing instruments have been awarded an IP57 certification, an industry rating that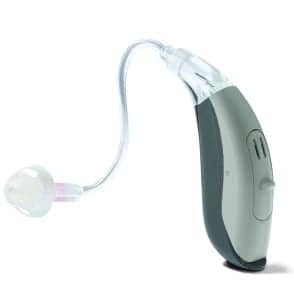 Bernafon Chronos
demonstrates the degree of protection against the ingress of dust and water.
The IP Code or Ingress Protection Rating, also known as the International Protection Rating, is an industry rating system designed to help users understand the degree of protection their instrument has against the admission of dust and water. The IP Code is an international standard (IEC 60529) developed and published by the International Electrotechnical Commission in Geneva in 2001.
Bernafon's goal was to achieve an IP57 protection rating, a solid particle protection rating of IP5x: "Dust-protected," plus a liquid ingress protection rating of IPx7: "Protection against the effects of temporary immersion in water."
In tests reportedly conducted by a reputable, independent testing center, a number of Bernafon BTE instruments passed the IP57 tests based on the IEC 60529 standard.
This rating means that dust won't penetrate in a quantity to interfere with the satisfactory operation of the hearing instrument or to impair safety. It also means that the entrance of water is not totally prevented, but that the hearing instrument is protected against the effects of temporary immersion in water to an extent that the instrument will, under normal circumstances, work again.
SOURCE: Bernafon