Benson Medical Instruments, Minneapolis, Minn, announces the CCA-200mini Plus audiometer, designed to integrate audiometric testing with database functionality. The system offers network database compatibility using the industry-standard Microsoft® SQL Server 2008 platform.
Audiometers that are network database compatible are increasingly the audiometer of choice for large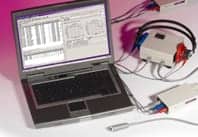 organizations with multiple locations and multi-user data sharing requirements, according to Benson. The benefit of having data on your company server offers three distinct advantages:
Multi-user data sharing capabilities;
Automatic, convenient, and routine data back-ups; and
The physical security of having data server-based as opposed to spread out on multiple (non-networked) computers.
In the last two situations, even a single-office company would enjoy the benefits of network database compatibility, says the company.
"We are seeing more and more large, multi-office organizations move toward audiometers that offer network database compatibility," says David Mayou, sales manager for Benson Medical Instruments.
"When you have several offices, each with many people who need to access the same data simultaneously, network database compatibility moves from the 'want' to 'need' category very quickly. If you do not have an audiometer that can handle this requirement, you wind up desperately wanting one that does."
For more information, visit www.bensonmedical.com or call 612-827-2222.